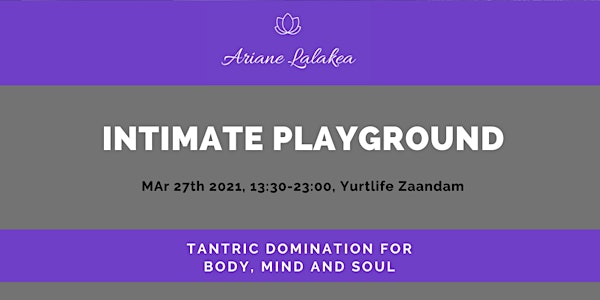 Intimate Playground - Tantric Domination for Body, Mind and Soul
TANTRA * KINK * DOMINATION: VERBAL - PHYSICAL - ENERGETIC * SELF-EXPLORATION * COMMUNITY * FREEDOM * LOVE * SAUNA * HOT-TUB
When and where
Location
YurtLife Wellness Center 2B Cornelis van Uitgeeststraat 1508 EH Zaandam Netherlands
Refund Policy
Contact the organiser to request a refund.
About this event
This is a special invitation for ONLY 12 beings who desire to get to know their power better and dare to dive into the art of surrender throughout our intimate playground.
This is a journey of the two erotic arts of consciousness Tantra and Kink. We will work with Domination on body, mind and soul (energy) level from a Tantric perspective.
You decide the intensity you take this day, as the ultimate creator of your experience. We create a safer container for you to explore your leadership skills, empower yourself through control, and also switch and give up your power to surrender into the strong arms of a Dom.
If you feel safer due to Corona circumstances, please bring a partner, and get 10% off for joining as a couple.
The location is a perfect getaway with Sauna and hot tub for a November day to dive into a divine play of power dynamics and empower ourselves through this experiences in bedroom and in life.
"when we can master our intimate encounters, we can master all other situations in life"
The best is the entire experience is guided with EARGASTIC Live DJ music to create an atmosphere of surrender, trust and safety to open up into the depth of our beings.
* OUR FLOW *
13:30-14:00 Welcoming and embodiment dance
14:00-14:30 Opening circle and Intention setting
14:30-15:00 Orgasmic self-love breathing
15:00-15:25 Shamanic drumming meditation guided by
Shamanic Mick
15:30-16:00 Stand in your power - consent is s.xy
16:15-18:00 Tantric Domination for body (physical), mind (dirty
talk), soul (energetic)
18:00-19:30 Dinner and wellness (Sauna, hottub) Break
19:30-20:30 Circle of desires
20:30-22:30 Free Playground
22:30-23:00 Closing circle and gratitude shower
**This is an INCLUSIVE space. We invite all beings from all genders, sexual expressions, cultural backgrounds and life paths. We practice the art of self-acceptance and thus finding acceptance for each other. All beings over the age of 18, acting from a place of fullness, welcome to join.
** Because of inclusion, we invite beings to step beyond rigid gender roles. We allow gender imbalance in our group.
**All touch is CONSENSUAL. You are the ultimate creator of your experience, thus we will have communication tools presented and embedded in the experience to find trust and mutual understanding. Nothing has to happen, everything can happen.
*It is a S.X POSITIVE space, we care for your health and provide all necessities. We also have some toys to share, but if you have, please bring your own toys.
* COVID-19 FRIENDLY *
Due to the required government measurements (RIVM) concerning COVID19 only 20 spots will be available. We will have couple exercises where it is about touching each others body (clothes on; if you feel safer with gloves & face masks feel free to bring your COVID19 safety kit so you can as freely connect as you desire to).
In all exercises the necessary distance can be maintained if wanted.
* LANGUAGE *
This workshop will be in English.