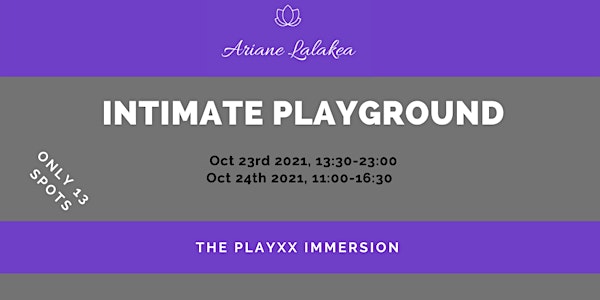 Intimate Playground - The PlayXX Immersion
PLAYFUL IMMERSION * LOVERS' SKILLS * TANTRA * KINK * POLARITY * EMPOWERMENT * DOMINATION & SUBMISSION * SELF-EXPLORATION * COMMUNITY * FREED
When and where
Location
YurtLife Wellness Center 2B Cornelis van Uitgeeststraat 1508 EH Zaandam Netherlands
Refund Policy
Contact the organiser to request a refund.
About this event
I invite you in this PlayXX Immersion to explore with various lovers' skills from ancient Tantric traditions to alternative kinky dynamics and level up your toolbox.
In these two days our main intention is to reconnect to our playfulness and explore how to move our energy and create an amazing experience of intimacy for yourself and partner(s).
We start with practices from Tantra and teaching around polarity to dive deeper into getting closer to ourselves and with this to the other like transfigurations, the power of breath and intentional touch.
From there we add some more spices with kinky dynamics and add breathplay, impact play and tease and denial to our toolbox.
All of this will be supported by consent exercises where we learn how to step into the power of words and use them to express our wants and don't wants in a supportive way (without breaking the flow).
The second day we will dive deeper into how to create a ritualistic tantric domination experience for each other.
The experience can be booked for only one day too, therefore please get in touch directly.
As the ultimate creator of your experience you decide the intensity and closeness you take these days while honouring your boundaries. We create a safer container for you to explore new lovers' skills so you can have the play that you desire.
JOIN WITH YOUR PARTNER AND GET 20% OFF THE TICKET PRICE
The location is a perfect getaway with Sauna and hot tub to dive into play.
* OUR FLOW *
SATURDAY
13:30-14:00 Welcoming and embodiment dance
14:00-15:00 Opening circle and Intention setting
15:00-16:30 Tantric Lovers' tools
16:45-18:15 Kinky Lovers' tools
18:00-19:30 Dinner and wellness (Sauna, hot tub) Break
19:30-21:00 Playground Opening Ceremony
21:00-22:30 Free Playground
22:30-23:00 Gratitude and reflection
SUNDAY
10:30-11:00 Arriving
11:00-14:00 Tantric Domination and Submission
14:00-15:00 Lunch
15:00-16:30 Closing Circle for Integration and Reflection
16:30 Departures
**This is an INCLUSIVE space. We invite all beings from all genders, sexual expressions, cultural backgrounds and life paths. We practice the art of self-acceptance and thus finding acceptance for each other. All beings over the age of 18, acting from a place of fullness, welcome to join.
** Because of inclusion, we invite beings to step beyond rigid gender roles. We allow gender imbalance in our group.
**All touch is CONSENSUAL. You are the ultimate creator of your experience, thus we will have communication tools presented and embedded in the experience to find trust and mutual understanding. Nothing has to happen, everything can happen.
*It is a S.X POSITIVE space, we care for your health and provide all necessities. We also have some toys to share, but if you have, please bring your own toys.
* LANGUAGE *
This workshop will be in English.
* REGISTRATION & CONTRIBUTION *
This is an exclusive experience for only 13 participants, book your space soon as we are usually sold out quickly.
If you want to attend only one of the two days please get in touch directly.
Get 10% off
--> for folks you have been with me before with the code "IntimateExplorers"
Get 20% off
--> for beings coming together (play buddies, partners, friends) with the code "Couple"
The contribution
includes snacks, dinner and Sunday's lunch (Indian & Thai cuisine);
all meals will be vegetarian.
Please specify if you have any dietary restrictions upon registration.
Water, tea and coffee will be available all day long.
If you can join only Saturday, please also get in touch directly.
If you are low on budget but still want to join we have 2 spaces for FLINTS to support in the space on donation basis. Get in touch directly, if this is you: arianelalakea@gmail.com
* WHO AM I *
Ariane Lalakea aka PriestessA is pioneering being by listening to and embodying the holistic self (body, mind and soul). She is on the path of healing and self-discovery since 10 years.
She is an international s.x positive educator, conscious s*xuality facilitator, coach & practitioner. In her teachings she combines the Western world of positive psychology and trauma awareness together with Eastern traditions of Tantra and Yoga, interwoven with Shamanic elements. She is co-founder of BliXX and co-creatrx of Intimate Inspiration.