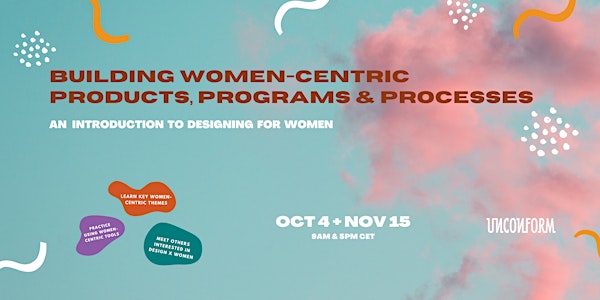 Introduction to Design for Women – An Interactive Workshop
Join the Design for Women Workshop to incorporate an inclusive, women-centric lens in your thinking, ideation and creative toolkit.
Refund Policy
Refunds up to 7 days before event
Eventbrite's fee is nonrefundable.
About this event
Introduction to Design for Women
Chances are that many of us regularly use, and build so-called "gender-neutral" experiences that often overlook key needs of women. This is because today's design, strategy and innovation methodologies exclude women: under the guise of being gender-neutral, the way we work today often produce "one-size-fits-men" outcomes.
Design for Women is a methodology and community of practice to help every decision maker be aware of women's needs when creating products, services and systems. At the heart of this workshop is the central question: how might we truly serve women?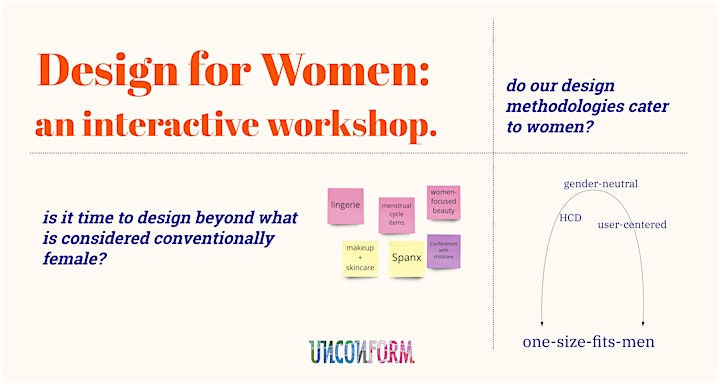 This is our signature introductory workshop. During the two hours, participants are introduced to the foundation and main tools of the methodology; an overview of key themes relevant to designing for women; and a deep dive + application exercises for 2-3 key themes.
This workshop is hosted by Unconform. Sign up to our twice-monthly newsletter here.
💻 Workshop Agenda and Outcomes:
Introduction: An increased understanding of how so called gender-neutral design methodologies overlook women
Learning: applicable key themes, insights and design principles to evaluate and re-design products and services with a women-centric lens
Application: Participants work in small groups to evaluate product and service experiences and apply their learnings right away
Why this workshop: Inclusive design leads to more successful products, services and organisations.
This workshop is hosted in English and is facilitated virtually. Once you sign up, you will receive more details and a Zoom link to join.
🎟 Who should attend:
Although called "design" for women, this workshop assists practitioners across research, innovation, organisational strategy, service design, social impact, branding and marketing, product and engineering apply a women-centric lens to their existing creative and strategic practices.
🙋🏽‍♀️ Recent Participant Feedback:
"This was definitely a worthwhile workshop, it's quite hard to find workshops that don't feel like the same content being regurgitated in different forms."
"I really enjoyed the activity where we came up with practical ways to design for women on a specific context. It got the juices flowing about how we can contribute to an otherwise massive feeling problem." — Program Designer in Education
"Thank you for the workshop. It was interesting to discuss a topic that usually does not come up much in our day to day work activities." — Sustainability Professional at a Climate Change Consultancy
"The seven 'pillars' of inclusive design was a great structure to work from. Would love to hear the deeper context for the other five!" — Fintech Founder & Professional
"Mansi delivered a brilliant mix of teaching, discussion, and collaborative activities that made us think. She introduced a framework that people felt they could back and use in their projects. Having this framework helps in determining if we are being harmful to women, gender indifferent, inclusive or holistic in our approach. The most wonderful thing is that even though it was focused on women, we are able to see how to apply the framework to other marginalized groups and specifically marginalized subgroups within the "woman" category." — Service & Experience Designer at the US Federal Government
📆 Dates and Times:
We're now offering this workshop in more timezones so that it's accessible to those living in the Eastern Hemisphere as well.
Eastern:
October 4: 6PM AEDT (Melbourne) | 12:30PM IST | 12:00PM PKT | 10AM EAT | 9AM CET
November 15: 6PM AEDT (Melbourne) | 12:30PM IST | 12:00PM PKT | 10AM EAT | 9AM CET
Western:
October 4: 8:30PM IST | 5PM CET | 11AM EST | 8AM PST
November 15: 8:30PM IST | 5PM CET | 11AM EST | 8AM PST
€ Pricing Details:
You will notice several ticket tiers — we have structured it in this way to make this workshop accessible to as wide a range of practitioners as possible.
Geographical Affordability Rate — we've added a pricing tier to accommodate affordability of the workshop as we move into new timezones. Please choose this tier only if it reflects the currency exchange rate of your country of residence. More details in the tickets section
Listed prices are all inclusive—including 21% VAT required in the Netherlands + Eventbrite platform fees.
🗓 Bring this workshop to your organisational team:
We also offer our signature workshop and other customised workshops to organisations so teams can work together on their own products and services with a women-centric design lens. Interested to get started? Contact us.