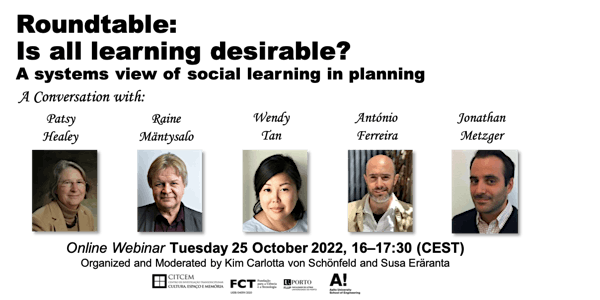 Is all learning desirable? A systems view of social learning in planning
Who learns what in planning? Is this always desirable, whatever is learnt? Explore with us and Healey, Metzger, Mäntysalo, Ferreira & Tan!
About this event
Planning is an inherently collaborative process in which differing knowledges and potentially conflicting values emerge and change over time. Much learning in the context of planning unfolds in the interactions of multiple actors who are bound by various institutional and relational roles. Thus, the nature of learning in planning is inherently social, and challenged by the networked and dynamic multi-level settings in which much of the needed knowledges are found outside of the planning organizations themselves.
The planning discipline has a long tradition of studying the collaborative context of planning practice, as well as knowledge and learning in this context. However, discussion of the social nature of learning and its systemic context have received less attention. To initiate discussion of a systems view of social learning dynamics in planning, this roundtable invites discussants on the potentials of transdisciplinary perspectives of social learning: How can other fields (e.g., psychology, philosophy, complexity theory, organizational studies) support the understanding of a systemic view of social learning in planning? What are the factors affecting social learning, and what are its possible societal impacts over time? Between whom is social learning in planning taking place, and whose views are conceptualized in planning processes? How are the systemic interrelations between various views formed, and how do they influence each other? And, finally, how is this affecting inclusion and spatial justice in planning?
Based on these themes, the roundtable aims to promote interdisciplinary understanding by critically reflecting on how social learning can lead to both justice and injustice, and how such a dilemma can be transcended. To discuss the topic, the roundtable synthesizes the above themes into three poignant, practice-oriented questions for discussion: Is any kind of social learning desirable? What kind of an impact should a planner have on the learning process? And (when, how and with whom) should social learning be deliberately encouraged in planning?
We have invited five speakers to provide insights and lead the discussion with us, each of whom is introduced below.
Patsy Healey is Emeritus Professor at Newcastle University, UK. She has both advocated for and critically discussed and engaged with collaborative planning throughout a fascinating career combining planning research and practice, and emphasising the importance of knowledge sharing and valuing various types of knowledge.
Raine Mäntysalo is Professor at the Department of Built Environment at Aalto University, Finland. He has specialized in and published on communicative planning and planning theory. In his work, Raine has emphasized the need to better understand the important concepts of strategy making, trading zones, agonism and power in spatial and land use planning.
Wendy Tan is Associate Professor at Western Norway University of Applied Sciences and Senior Researcher at Wageningen University. She is an expert in inclusive accessibility and mobility planning, and has vast experience reflecting on learning practices in planning research and practice.
António Ferreira is Principal Researcher at CITTA: Research Centre for Territory, Transports and Environment, University of Porto, Portugal. He is deeply concerned with the environmental, social, and economic crisis the world is currently facing, and what that crisis means for children and future generations. His research interests cover a variety of themes, namely urban and transport policy, worldview theory, emotions in planning, and planning education.
Jonathan Metzger is Professor at KTH Royal Institute of Technology. His research is founded on a diversity of themes that shape the processes and substance of planning. His specific research interests have a strong empirical value focus, for example, on how ideas develop during planning processes among the diverse actors. In an ongoing project, Jonathan has dived even more deeply into the very relevant question of who actually shape the city of the future, analyzing the collaborative settings of diverse expertise in urban development processes.
The Roundtable is organized and moderated by Kim Carlotta von Schönfeld and Susa Eräranta.
Kim is Research Fellow at CITCEM (Centre for Transdisciplinary Research on Culture, Space and Memory) at the Faculty of Arts and Humanities of the University of Porto, Portugal. Her PhD thesis, defended in 2021, studied Social Learning (and Social Innovation) in Co-creative Planning and besides this she is researching various topics in the fields of governance, environmental and social sustainability, urban and regional planning, post-growth/degrowth economics, and diversity of perspectives.
Susa is a Professor of Practice at the Aalto University and a Project Director at the City of Helsinki, Finland. She is working in practice with climate policy-making and planning for planetary liveability and carbon negative cities. With a background in urban planning, climate work and organizational sciences, her research interests are in the networked dynamics and systems analysis of sustainable planning practice and strategy-making processes, with a special focus on the human side of knowledge dynamics in these complex processes.