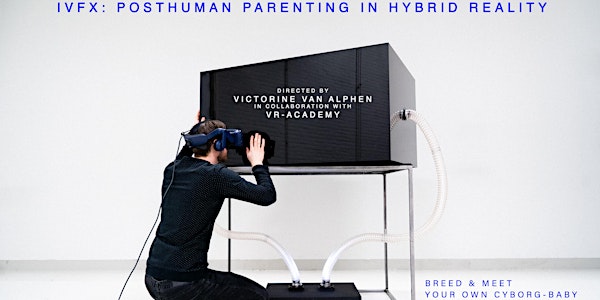 When and where
Location
MU Hybrid Art House Torenallee 40-06 Eindhoven Netherlands
About this event
IVF-X is an awarded continuously mutating transmedia experience inviting *couples or singles to 'breed' digitally in a posthuman clinic using A.I. & Procedural Visual Simulation to grow cyborgs. *LGTBQ+ Proof.
In the future, what will it mean for humans to breed if it is not so much a biological matter but an offspring of choice & technology? Breed & meet your own personalized cyborg baby in Victorine van Alphen's IVF-X: a creature existing on the verge of humanity & technology, digitally grown for you based on your choices.
In 20 to 25 minutes, either one person, or a couple, explores the possibilities of going beyond the human form. You will meet your cyborg only after an intimate retro-futuristic intake guided by performers: a merge of immersive theatre, roleplay, experimental film, provocative interfaces and a 'digital womb'.
Experience this unique opportunity to create your cyborg offspring by signing up for one of the timeslots.