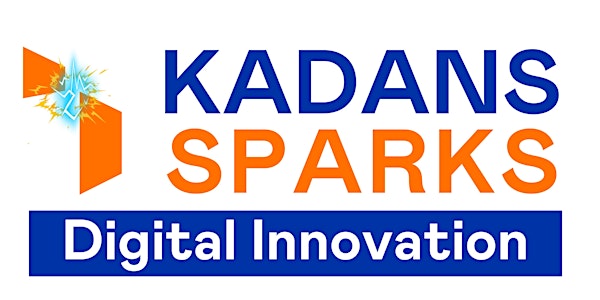 Kadans Sparks Digital Innovation
Kadans Sparks Digital Innovation- November 29 | Meulensteen - House of Robotics at TU/Eindhoven
When and where
Location
De Rondom 18 18 De Rondom 5612 AP Eindhoven Netherlands
About this event
'Kadans Sparks…' is a new type of event where organisations can explore the future of innovative solutions.
First 'Visionary dreamers' share their vision of the future. They will trigger your imagination by taking you on a journey to the future about the role of digital innovation in our lives.
Followed by 'innovators' pitching their disrupting technologies. Innovators are companies working on ground-breaking innovations, and they will inspire you with their solutions.​
Through collaboration the visions are translated to a future within reach.
On Tuesday November 29, we are organising the first edition of Kadans Sparks… Innovation at the TU/e Campus in Eindhoven. We look forward to welcoming anyone interested within the tech community, wherever you are already on the TU/e Campus or are accommodated on another campus. This is your opportunity to get acquainted with future technologies, meet new partners and acquire new business opportunities.
The full programme is as follows:
09:30 – 09:45 Arrival with a cup of coffee or tea
09:45 – 10:00 Introduction of Kadans Sparks Digital Innovation
10:00 – 10:15 Presentation by Visionary dreamers
10:15 – 11:00 Technology pitches by the Innovators
11:00 – 11:15 Coffee break
11:15 – 12:00 Brainstorm part 1
12:00 – 12:45 Lunch at Disruptor
12:45 – 13:30 Brainstorm part 2
13:30 – 14:00 Presentation of brainstorm by moderator
14:00 – 14:15 Defining following steps
14:15 – 14:45 Festive closing & drinks
The visionary dreamers
Our first visionary dreamer is Vanderlande, a market-leading, global partner for future-proof logistic process automation in the warehousing, airports and parcel sectors. Vanderlande will be presenting two visions on Fully Integrated City Hubs and Fully Automated, Remotely Operated Warehouses.
Our second visionary dreamer is GN Hearing, developer of hearing aids. GN Hearing has a history of innovation and breakthrough solutions for better hearing, which have won several awards. They foresee a future where our sensory systems, in particular hearing and vision will be more entwined. Thus, they will be presenting the Hearing aid with Vision.
The innovators
Five innovators have been selected to pitch their disruptive technology, namely Avular, EAISI, OrangeNXT, Total Reality and WAVES Process Intelligence.
More information about the visionary dreamers and the innovators can be found on the Kadans Sparks website: www.kadans.com/sparks
Whether you are a visionary dreamer or an innovator who would like to pitch their digital solution or a brainstorm fanatic, make sure to register.