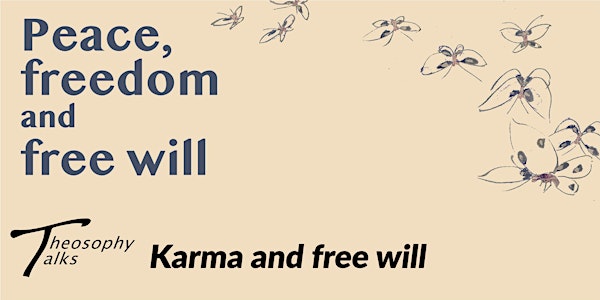 Karma and free will - Online Theosophy Talks
Theosophy Talks are live streamed every other Sunday night from Oct - June. Lectures within a series can be viewed independently.
About this event
All Theosophy Talks 2022-2023 are recorded live without an audience.
Watch the interactive live stream!
Questions during the lecture? Mail us and they will be answered live. You'll find the email address in the confirmation email.
Two Theosophy Talks on 'Peace, freedom and free will'
Who doesn't hold freedom as an ideal? But why does the freedom of some still so often come at the cost of the freedom of others? In this lecture series, together we will build greater understanding about freedom, the role of our free will, and what it can mean for peace.
11 December 2022 - Karma and free will
To what extent do we have free will? Some things seem like a given, like where and when you are born. The teaching of karma shows that you can always choose. And that you can both constrain and expand your free will, for this life or the next.
8 January 2023 - Working for the liberation of all life
You will find it in philosophies and religions from East to West: the quest for redemption or liberation. You may ask: redemption or liberation from what, for whom and to what end? We explore these questions from the perspective of the interconnectedness of all life.
Missed a Theosophy Talk? In an incompatible time zone?
Watch the Theosophy Talks at your leisure. Check the 'Watch past lectures' section on our website!
The spiritual impulse of Helena P. Blavatsky
October 2 - Who was Helena P. Blavatsky?
October 16 - Universal Brotherhood: the Way of Peace
October 30 - Everyone a peace-maker!
November 13 - The peace within you
November 27 - Do ideas change the world?
Peace, freedom and free will
December 11 - Karma and free will
January 8 - Working for the liberation of all life
Dealing with turbulences in your life
January 22 - Stoic philosophy on peace of mind
February 5 - The peace of Tao
A deeper insight in the cycle of life and death
February 19 - Birth and death of suns, humans and atoms
March 5 - Living better by thinking about death
Spiritual science - The new scientific mentality
March 19 - The universal science of antiquity
April 2 - Metaphysics: beyond the limits of physics
Universal symbols: the language of the soul
April 16 - The circle, the triangle, the cross
April 30 - Heroes, dwarfs, giants, snakes and dragons
Universal Brotherhood
May 14 - One Life, One Path, One Destiny for all beings
May 28 - Universal Brotherhood, a fact in Nature
De Ruijterstraat 74
2518 AV The Hague
The Netherlands
info@blavatskyhouse.org