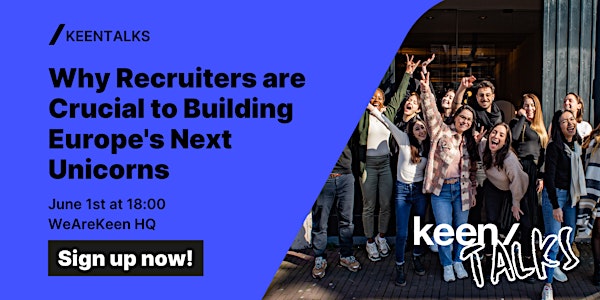 KeenTalks: Why recruiters are crucial for building Europe's next unicorns
Location
WeAreKeen | Talent Partners
224 HS Brouwersgracht
1013 HE Amsterdam
Netherlands
First in-person recruitment event at our new Amsterdam HQ to learn, network and have a little fun.
About this event
KeenTalks: Why recruiters are crucial for building Europe's next unicorns!
Recruitment community, it has been too long since we saw each other face to face so we've decided to move our virtual events to in-person events at our beautiful new office. It's time to meet again, connect and learn from one another with some drinks and food.
We brought together some inspiring recruitment leaders (Ingeborg van Harten, Kobi Ampoma & Elisa Viaud) to sit down and discuss the topic: Why recruiters are crucial for building Europe's next unicorn!
You - recruiters are in the highest demand right now and we believe that you are a huge part of the puzzle to take businesses to the next level. During the evening, there will be a lively discussion between Ingeborg, Kobi and Elisa, ask your questions, enough time to chat with your recruitment community and have a little fun over drinks and food.
Join us at our brand new Amsterdam HQ in the Jordaan on Brouwersgracht - we cannot wait to welcome you!
Schedule:
18:00 to 18:30: Walk-in with drinks and bites
18:30 to 19:30: Panel with Ingeborg van Harten, Kobi Ampoma and Elisa Viaud.
19:30 to 20:45: Drinks & Food
More about our speakers
Ingeborg van Harten:
Ingeborg is the Founder of 7people - a People and Culture consultancy that helps startups and scaleups to become irresistible organizations. She works with companies such as Bitvavo, GoodHabitz, The Student Hotel, Payaut, Biller, LOAVIES and Insify. With her team, she designs unique 'employee experiences' and turns her clients into talent magnets. Ingeborg previously worked as Head of People for Mollie, where she grew the company from 80 to 400 employees and put Mollie on the map as an attractive employer.
Kobi Ampoma:
Kobi is a Talent Acquisition Lead and has an educational background in Human Resources. Having worked in the HR function as an HR Generalist, International Mobility and Talent Acquisition - Kobi is a big advocate for Diversity & Inclusion in recruitment.
He has worked in the FMCG, Retail, Sporting Goods, Fashion, and Technology industries for 21 years. With his years in Human Resources and Talent Acquisition functions, Kobi brings insights that can help you gain a different perspective. He has also found his why and that is "To inspire people and help others by being a role model in everything I do to create equality in the world".
With a global network of talented individuals, he sees himself as a connector with a passion for Talent Acquisition.
Elisa Viaud
Elisa Viaud is an Organizational Psychologist, Certified Executive Coach (ICF, PCC) with 15 years of professional experience in Executive Search, Recruitment and Talent Development. She started her career in the International Executive Search firms such as Korn Ferry and Spencer Stuart in Paris, France, later she worked for the early days Uber in EMEA markets and spent almost 4 years at Tesla where she hired Leadership for EMEA HQ and across 23 countries.
At the moment Elisa is working with Series A and Series B start-up founders as Talent Advisor and Performance Coach and pursuing postgraduate studies to become a certified Psychotherapist. Elisa speaks fluent French, English, Ukrainian and Russian.