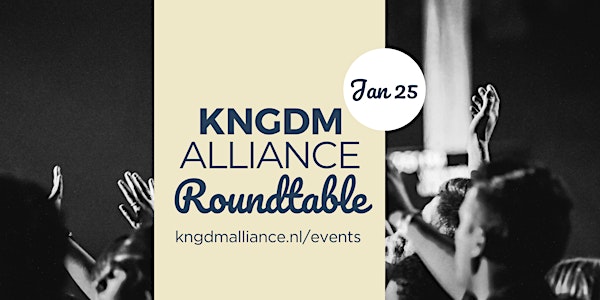 KNGDM Roundtable - January 25th
A roundtable for pastors and leaders in Europe to gather together to meet, worship and share on the biblical theme 'One New Man'.
Date and time
Wednesday, January 25 · 1:30 - 5pm CET
Location
Theetuin Eemnes | Brave Hendrik 131 Meentweg 3755 PD Eemnes Netherlands
Refund Policy
Contact the organizer to request a refund.
Eventbrite's fee is nonrefundable.
About this event
We want to welcome you at a unique KNGDM Alliance event happening on Wednesday, January 25, between 13:30 and 17:00 in Eemnes, the Netherlands!
SPEAKERS
We will have Israeli author and Bible scholar Ariel Blumenthal speaking at a roundtable session for pastors and leaders on the important Biblical theme of the "one new man". We believe that working towards this "one new man" becoming a practical reality in the Church globally is key to seeing Jesus return hopefully in our life time. He will come back for a church that is truly one as God is one!
ARIEL BLUMENTHAL
Ariel directs the Jerusalem base of Tikkun Global (formerly RITG), a Messianic Jewish family of congregations and ministries in Israel and around the world. He is married to Vered. They reside in Jerusalem with their three children. He recently authored the book One New Man. In this book, he unpacks the mystery found in the New Testament that God is reconciling Jew and Gentile together as one new man in Christ - which is so much more than the often superficial unity we find in the church world.
ONE NEW MAN
The vision that the Apostle Paul shares, for instance in Ephesians 2 and Romans 9-11, is that in Christ the Jew can remain Jewish and the Gentile can remain Gentile. Their cultural differences in Christ will bring glory to God more than when Jew and Gentile are forced to become the same. Jew and Gentile are linked together in Jesus in loving service to one another and in loyalty to Jesus. That is the end goal of the gospel of the Kingdom as we get ready for Jesus' return: that we may become truly one: Jew and Gentile, male and female, young and old, rich and poor, and across all ethnicities.
HOST: KNGDM ALLIANCE
The host of this unique event is KNGDM Alliance, a brand new global family of churches, ministries and leaders who covenant together to see the gospel of the Kingdom proclaimed in every nation of the world - including Israel.
LOCATION: THEETUIN EEMNES
So join us on Wednesday, January 25, between 13:30 and 17:00 in Theetuin Eemnes (Brave Hendrik) on Meentweg 131 Eemnes. Even though tickets are free for every pastor and leader, we would highly appreciate an offering of 20 euro or more per person to cover our expenses and to be able to bless Ariel and his ministry in Israel.