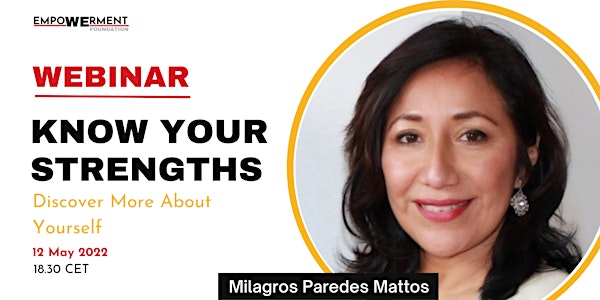 Know Your Strengths
Have you been rethinking what you want to do with your career? The first thing to do is rediscover who you are in a powerful way
About this event
About this event
Are you having doubts about the career path you have chosen? Are you wondering if there is a way to add more meaning, connection, and fulfillment in your life? Have the recent global events caused you to think about what really matters to you?
We have developed a holistic, 12-session career transformation program to help people like you navigate the uncertain times we are currently living in, and create a life on their own terms, based on their unique skills, values and priorities.
In this 90-minute workshop, you will get a glimpse of the program, you will meet some of our highly experienced Facilitator - Coaches, and you will learn about the breakdown of the program: - Understanding "Who You Are" and how the external reality is affecting you- Clarifying "What You Want" from your career and life- Gaining knowledge and understanding of "How Do I Get There" from here
This taster workshop is the right first step for you if you are employed yet considering the possibilities of changing your job, currently unemployed, or on a career break. You might be feeling anxious or overwhelmed at the thought of starting all over again. You probably feel unsure of what your strengths, interests, and passions are, but one thing you know for sure is that the next job must bring you the balance and satisfaction you are looking for in life.
Join our facilitator Milagros Paredes Mattos, Thursday 12th May at 18.30 CET
If you choose to join us for the Breakthrough Career Transition program, here's the transformation you can expect:
Create a new, deeper connection to who you are
Gain clarity on who you've become and what your present self needs right now
Recover your trust in your ability to make your own decisions and take massive action
Give yourself permission to try new things so you can get unstuck
Develop unshakable Resilience to thrive in a constantly changing environment
Interested? Read more or schedule a consultation call to ask more questions.