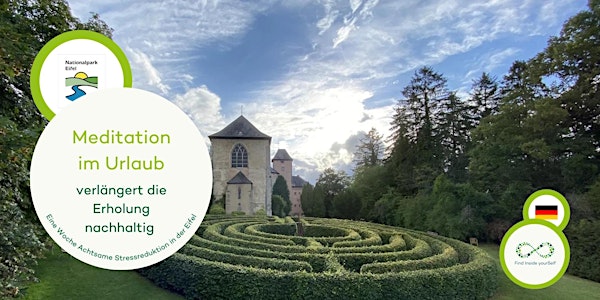 Kompaktkurs: Stressbewältigung durch Achtsamkeit in Steinfeld, Eifel
Eine Woche Stressbewältigung durch Achtsamkeit in der Eifel mit leichten Bewegungen, Meditation und Reflektion nachhaltig erlernen.
When and where
Location
Steinfeld Abbey Hermann-Josef-Straße 4 53925 Kall Germany
Refund Policy
Contact the organizer to request a refund.
Eventbrite's fee is nonrefundable.
About this event
Programm-Vorschau
1. Tag: Einheit 1 THEMA: ACHTSAMKEIT 2 Std.
2. Tag Vormittag: Einheit 2 THEMA: WIE WIR DIE WELT WAHRNEHMEN 2 Std.
2.Tag Nachmittag: Einheit 3 THEMA: IM KÖRPER BEHEIMATET SEIN 2 Std.
3.Tag Vormittag: Einheit 4 THEMA: STRESS UND STRESSBEOBACHTUNG I 2 Std.
4.Tag Vormittag: Einheit 5 GEDANKEN SIND GEDANKEN 2 Std.
4.Tag Nachmittag: Einheit 6 THEMA: GEFÜHLE WILLKOMMEN HEISSEN 2 Std.
5.Tag Vormittag: Einheit 7 THEMA: ACHTSAME KOMMUNIKATION I 2 Std.
5.Tag Nachmittag: Zeit im Schweigen THEMA: ÜBUNGSZEIT IN DER GRUPPE –WEITGEHEND IM SCHWEIGEN 3 Std.
6.Tag Nachmittag: Einheit 8 THEMA: FÜR SICH SORGE TRAGEN, RÜCKBLICK UND AUSBLICK 2 ½ Std.
Mehr Details kommen bald.
Wer achtsam meditiert bleibt länger vital
Der erste Schritt zu einem nachhaltigen Urlaub ist das kostenlose Vorgespräch
Zum Kurs gehört ein telefonisches Vorgespräch (ca. 30 Minuten).
Dann hast Du die Möglichkeit, alle Deine Fragen zum Angebot zu stellen. Auf diese Weise können wir uns gegenseitig kennen lernen. Gemeinsam treffen wir auf der Grundlage des Gesprächs die Entscheidung für eine Teilnahme.
Im Gespräch erhältst Du alle Informationen zum Kurs und kannst Deine Fragen klären, zum Beispiel:
Ist Achtsamkeit in diesem Moment die richtige Wahl in Deinem Leben?
Passt dieses Achtsamkeitstraining zu Dir?
Passe ich zu Dir als Trainerin?
Alle persönlichen Daten werden vertraulich behandelt und sind nur dem Ausbilder zugänglich. Dritte haben keinen Zugriff darauf, und keine Informationen über Deine Teilnahme werden ohne Deine Zustimmung an Dritte weitergegeben.
Plane nun Deinen Telefontermin mit mir.
Daniela Gaschler
Zertifizierte Achtsamkeitsexpertin & Pädagogin, Find Inside Yourself
Aikido Trainerin, Tendoryu Aikido Roermond
E-Mail: d.gaschler[at]findinsideyourself.org
Telefonnummer: 00 31 (0) 6 53 107 436