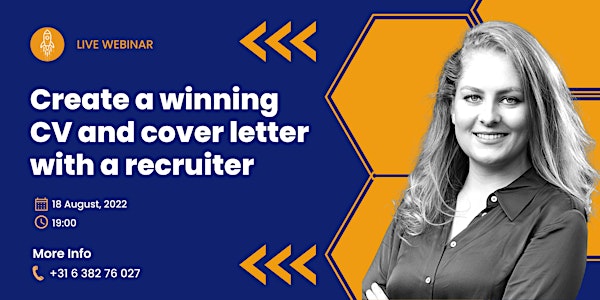 Land a job in the Netherlands: create a winning CV and cover letter
Only 2% of CVs make it past the first round. Do you want to be top 2% and get an invitation to every single interview?
About this event
Have you tried to apply for jobs in the Netherlands, but did not get an invitation to the interview? Then you are not alone!
Most employers will spend only 10-20 seconds reviewing your profile. This free webinar breaks down exactly what a resume and cover letter need to include to make sure you get an invitation for an interview. You will learn how to convert a boring resume into a dynamic asset statement that conveys your talents in the language that a Dutch employer understands.
Topics that will be discussed:
How to grab the recruiter's attention and ensure that your CV and application letter stand out from the other applications?
How do Dutch employers select from all the CV's and letters they receive?
How to stand out as an expat in the Netherlands?
Do you need to tailor your resume and cover letter for each position?
Speaker:
Iselde van Beurden has 10 years of experience recruiting for and partnering with SMEs, startup-ups and venture builders.