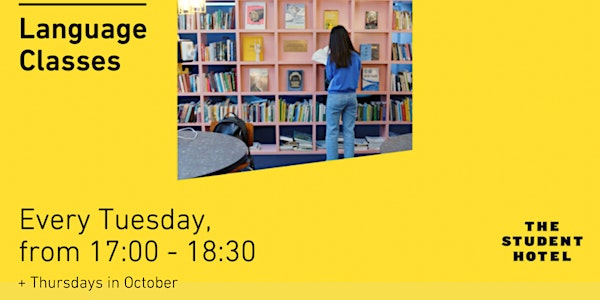 Language Classes Semester 1
Bienvenido! Benvenuto! Bienvenue! Wilkommen! Welkom!
About this event
The Student Hotel has teamed up with language schools to help you survive in a different country. What is a better way to start your new adventure by learning the language, getting to know the culture and meeting other students within the community!
Interested? Sign up for your favourite language class or maybe even join all the languages!
All classes are held online from 17:00 - 18:30, please make sure to attend the class on time!
Dutch classes - 7th, 14th, 21st and 28th of September 2021 (Tuesdays)
Spanish classes - 5th, 12th, 19th and 26th of October 2021 (Tuesdays)
German classes - 7th, 14th, 21st and 28th of October 2021 (Thursdays)
French classes - 2nd, 9th, 16th and 23rd of November (Tuesdays)
Italian classes - 4th, 11th, 18th and 25th of January (Tuesdays)
* If you sign up, you agree with the recording of the sessions*