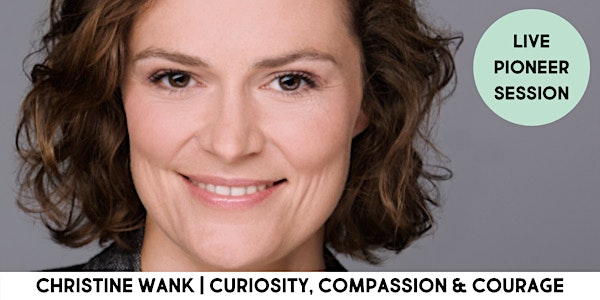 Leading and Innovating with Curiosity, Compassion and Courage
How to lead transformation and use your Self as a tool for real innovation?
About this event
* voertaal: Engels *
The times call for a deeper transformation in our organizations, societies, and ourselves.
Christine Wank strengthens you in making this happen by leveraging your inner instruments for transformation – with curiosity, compassion, and courage!
In our world today, we increasingly face problems of a new kind of complexity, such as the current pandemic or climate change, in which it is virtually impossible to clearly define cause and effect, the relevant stakeholders, or even the problem itself. Our traditional institutions and problem-solving patterns often fail in providing the right answers or even asking the right questions. In this context, we do not need "more of the same" or just another new method but rather a shift in paradigm and a way how we can use our Self as most important tool for transformation.
There is a need for deeper change, that is informed by who we are and who we want to become.
During this experiential session you will get both a fresh impulse on how you can activate your inner instruments for transformation and experience an inspiring exercise that will help you to connect with your full potential and field of the future that will help you create intentional holistic change that includes our thinking, feeling, relationships, and search for meaning and purpose. In this interactive session Christine triggers you to unleash your inner pioneer, by teaching and challenging you to:
1. Leverage the intelligence of the head, heart, and hands to make transformation happen in yourself and in others
2. Explore how to stay open and connected to the potential future and fields of possibilities, even when the times get rough
3. Connect with your highest future possibility and purpose
4. Explore your next steps in moving forward on your journey in making transformations happen in your own live
Ask me Anything
We will end the session with a 20 minute Ask me Anything with Christine. Don't miss the chance to ask your questions or get advise directly from her.
About Christine Wank
Christine is Founder of the Generative Facilitation Institute (Berlin) and an international facilitator, trainer, and coach in organization and leadership development and innovation. Her passion lies in co-initiating and facilitating meaningful transformations and generative change. As a senior facilitator of the Presencing Institute (founded by Otto Scharmer - Theory U) she has been engaged in the fields of capacity building and change facilitation for over a decade. Through her Facilitate U programs she helps people and organizations reach their full potential and shape the world in a responsible way. During the last 15 years, she has worked with business, government and NGO leaders, multicultural teams, and organizations from across the globe.