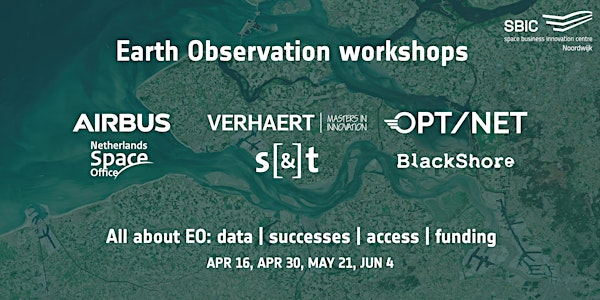 Learn from Success Stories Workshop
Learn from Success Stories Workshop – development and deployment of existing Copernicus-enabled services and applications
About this event
Success Stories Workshop
Date: 30 April 2021
Time: 10:00 - 12:00
You will discover how existing Copernicus-enabled services and applications have been developed and deployed.
This EO workshop will consist of two parts. The first presentation will be given by Taras Matselyukh, CEO/CTO and founder of OPT/NET B.V. OPT/NET B.V. specialises in advanced AI Platforms. Taras will present his company, explain two large scale projects under the EC Horizon 2020 funding - using Copernicus services - and reveal his personal success stories.
After the first presentation, Hans van 't Woud, CEO and founder of BlackShore, will tell the story of his Copernicus masters awarded crowdsourcing platform Cerberus and explain how he enable 62 000 gamers to turn satellite imagery into maps. This interactive presentation will be followed by a second part focusing more on technical aspects and where you can share your own thoughts on how you would use a crowd to turn big datasets into deep knowledge and solve world problems with the power of the crowd and Copernicus.
Earth Observation workshops
SBIC Noordwijk, together with experts from the space industry, will host four specialized Earth Observation (EO) workshops aimed at entrepreneurs and other space enthusiasts. Every week, you'll get closer to knowing everything you need to know about earth observation.
You can join any number of workshops, but you need to register for them separately.
16 April – EO Data and Services
Get to know and understand the different types of earth observation data and services, and how they can be accessed and used
30 April – Success Stories
Learn from multiple founders how they developed and deployed Copernicus-enabled services and applications
21 May – Access to EO Data
a. Introduction to Open Satellite Data Portal (by Netherlands Space Office)
b. Introduction to Sobloo and UP42 (by Airbus)
4 June – EO Funding Programs
Discover all the possibilities to fund your earth observation business.