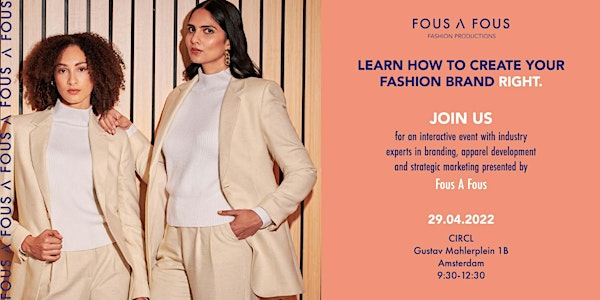 LEARN HOW TO CREATE YOUR FASHION BRAND RIGHT.
LEARN HOW TO CREATE YOUR FASHION BRAND RIGHT.
When and where
Location
CIRCL 1B Gustav Mahlerplein 1082 MS Amsterdam Netherlands
About this event
On behalf of Nabila Doudou , founder of Fous A Fous would like to invite you to an inspirational interactive masterclass event which will be held in the CIRLC venue in Amsterdam. The program of the event touches upon all the aspects of creating an ethical, slow fashion brand/collection.
Fous A Fous can support you with anything that is needed to finalize your plan or idea to create a fashion brand/collection for both starting brands and retailers who would like to create their own private label brand in any of the product categories.
Step by step, we can finalize your designs in the right fabric to get ready for the first sample. We sample each part first before we hand everything over to our partner suppliers who realize the garments in production! Have a look at our process. https://fousafous.com/process/
During this masterclass, we will let you look behind this process of fabric sourcing and apparel design development. Before you start designing and developing your collection, it is important to have your branding right and after your collection is manufactured and delivered it is important to know how to sell it if you are a starting brand.
Therefore, we invited two additional professional speakers who will kindly share their deepest insights with you: Willa Stoutenbeek (founder and creative director W.Green) will make you an introduction to branding, design and concept creation and Iris Krami (Co-founder of Renoon) will explain to you how the distribution channels work and will share the best hacks of how to build a go-to-list for wholesalers & platforms.
We will take you on a trip of full-service fashion brand creation. This masterclass with industry experts will provide you with the hands-on information and will answer your biggest questions of how to create a brand, how to develop a design and how to sell it!
You will attend all THREE BREAK OUT SESSIONS with fashion industry insiders who share practical insight into this dynamic industry and guide you through the key steps to successfully launch and sustain your fashion brand.
Break out session BRANDING with W.Green. Branding & communication agency, known for its strong ethical values and holistic way of working. W.Green will show you how to create an engaging brand and will cover topics like who is your target group and brand concept including values & story.
Break out session APPAREL DEVELOPMENT with Fous A Fous. A fashion apparel design and development agency based in Amsterdam with manufacturing partners in Europe. Fous A Fous will help you understand how to build up the collection and how to choose the right fabrics for the collection. This to stay aligned with your budget.
Break out session STRATEGIC MARKETING with Renoon. A globally app that empowers consumers to realize their sustainable lifestyle and values when shopping fashion by combining the offering from multiple websites at once and assessing sustainability at the product level. Renoon will explain what to keep in mind to choose the distribution channels and will give you hacks to build your go-to-list for wholesalers & platforms.
Interested? GET your ticket today and see you on 29th of April in Amsterdam!
Opportunity to network after the masterclass with all creativepersonalities!
Much Love,
Nabila Doudou
Fous A Fous
Details: Time: 09:30-12:30 - walk in between 09:30-10:00