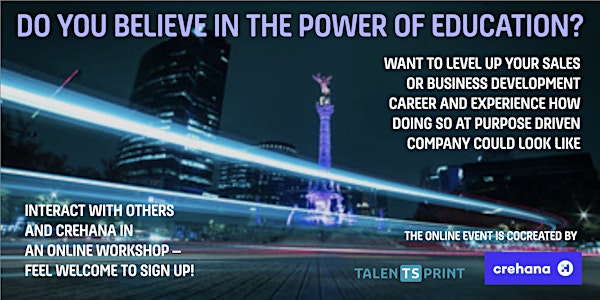 Level up you Business Development Career with a Purpose Driven company
For Mexico: Want to level up your sales & bus. development career and to do so at a purpose-driven company? Level up your career today!
About this event
Are you located in Mexico?
We are looking for Mexico-based professionals who believe in the power of education and want to create an impact at a purpose-driven company.
Question: Are you experienced in education, teaching, or have a passion for e-learning; or are you into business consulting, and do you see the potential of learning products and services in a larger business context?
Question: Are you explore ways to direct your consulting career in a different direction, and would you like to create more impact using your educational, coaching, teaching and/or academic experiences being part of a purpose-driven company
If that sounds like you then this online Workshop might be something for you.
Level up your Sales & Business Development career
Show you passion for learning AND experience the impact of a purpose-driven company
We - the Talent-Sprint & Crehana - are inviting you for a FREE 90-min online level-up workshop where you will explore with peer participants how you could level up (advance and elevate) your career.
Our trained Talent-Sprint facilitators will guide you through a 75min interactive workshop where you will co-create the first contours of your professional future in business development, in a world where learning and education impact people, business and society. Make sure you join this workshop and get introduced to doing things differently!
When
16th of July, 5:30 - 7:00 PM Mexico Central Time
Agenda
Welcome participants
Introduction Talent-Sprint & Crehana
Online Career Level Up workshop (75 min)
Question & Answer
Where - ONLINE
You can easily participate in the confidence of your home. A PC and a good internet connection are recommended to best benefit the online experience.
These dual-language (English and Spanish) sessions will be online and we will use ZOOM as a web conference platform and MURAL for virtual collaboration.
You host and facilitators
These sessions are co-created by the Talent-Sprint in close collaboration with Crehana, a purpose-driven organization - creating impact in the lives of millions of people though distant and e-learning solutions