From Waste to Resource – Biotechnology for a Circular Economy
About this event
During the 9th Life Science Symposium we will take a deep dive into this sustainable theme. Top-of-the-field international academics and engineers will address the role biotechnology can play in shifting towards a circular economy, which will be crucial to reduce pollution with an evergrowing world population. During the event, a diverse range of subjects will be covered, including the development of second-generation biofuels from agricultural waste, microbial PET bottle recycling and wastewater treatment.
With this theme we hope to inspire students and academics with the new advances and possibilities within the field of biotechnology, and show how it can play a major role in the transition to a circular economy.
The Life Science Symposium is a biannual event organised by Study Association LIFE, the representative body of Life Science & Technology students at the TU Delft and Leiden University in The Netherlands.
Tickets
The tickets are free and for €2,50 you can receive an additional information package that contains the programme booklet, a notebook, a pen and more! In addition, you will receive a hard copy of the review of the symposium afterwards. This option is only possible for addresses in The Netherlands.
All personal data will be protected according to the EU General Data Protection Regulation (GDPR).
Further information
For more information please visit our website or find the entire programme below: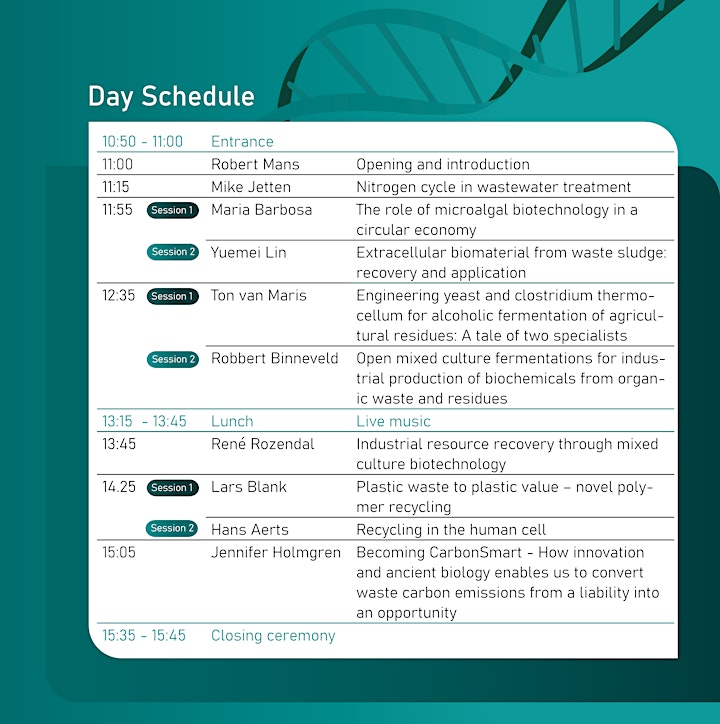 Date and time
Location
Refund policy