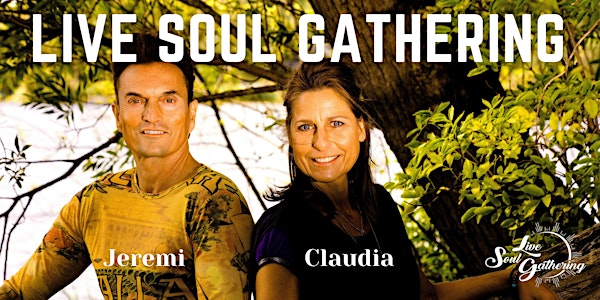 Live Soul Gathering - Afstemmen op de nieuwe maand
Elke laatste zondag van de maand: Live Soul Gathering! Readings, healings, channelings, activaties, ancient wisdom stories/songs en Q & A.
When and where
Location
Vondelstraat 120 120 Vondelstraat 1054 GS Amsterdam Netherlands
Refund Policy
Contact the organizer to request a refund.
Eventbrite's fee is nonrefundable.
About this event
Het is een blessing! Vanaf september 2020 is er elke laatste zondag van de maand een verrassende en vernieuwende Live Soul Gathering! Soms online en soms offline, hou de Facebookpagina en Eventbrite in de gaten. Claudia's readings, channelings en activaties brengen precies dat wat per maandelijkse gathering vanuit de astrale wereld gedeeld mag worden met de aanwezigen. Elke gathering wordt verder ondersteund met prachtige ancient wisdom stories en songs die op dat moment relevant zijn volgens Jeremi's leiding. Jeremi's storytelling en songs zullen dus ook iedere maand variëren.
In deze tijd zijn er veel mensen die zich opgesloten voelen door angst en verdeeldheid. Misschien is het tijd dat jij hier verandering in wil brengen. Als je je angstig en onzeker voelt bij de richting die we opgaan, weet dan dat er meer licht is dan ooit tevoren. En er is zoveel hulp aanwezig voor ons van Spirit! Het is nu aan ons.
Wij -Jeremi en Claudia- organiseren maandelijkse gatherings om jou en anderen te ondersteunen en om dieper en sterker te verankeren in de vijfde dimensie die in 2021 nog duidelijker aanwezig zal zijn.
We zijn een shift aan het maken van de 3e dimensie (dualiteit, afgescheidenheid) naar de 5e dimensie (eenheid, verbondenheid). Vanuit de wereld van Spirit is aan ons doorgegeven dat de veranderingen versneld gaan plaatsvinden. Dat vraagt om flexibiliteit in alle aspecten van je leven. Spirit laat ook weten dat het belangrijk is dat we samen met jou, focus houden op schoonheid en positiviteit in ieders leven, zodat we daarvan elke dag meer aantrekken. Dat is hoe de energie in de vijfde dimensie werkt! Wat je uitzend ontvang je direct terug, in your face! Wanneer je je daar bewust van bent is het makkelijker om je minder of niet te laten beïnvloeden door alle schijnbare negativiteit in de wereld die je down laten gaan. Creëer positieve energie in de vijfde dimensie en laat je opvullen tijdens Live Soul Gathering met hoog vibrerende energie, schoonheid, liefde en vrolijkheid. Dit zal jouw frequentie direct omhoog brengen. We stemmen iedere maand af op nieuwe meditaties, healings, activaties, stories en songs, channelings en Q&A waarbij je voor jouw persoonlijke vragen support krijgt van Spirit. De energie is aan het verhogen en jij, jij bent hier nu aanwezig, als een medespeler in het huidige ascensie proces.
Live Soul Gathering, a spiritual journey, elke laatste zondag van de maand.
Boek nu voor 25 april 2021. Er zijn slechts 20 kaarten.
* Neem zelf een fleece deken, een yogamatje en een meditatiekussen mee.