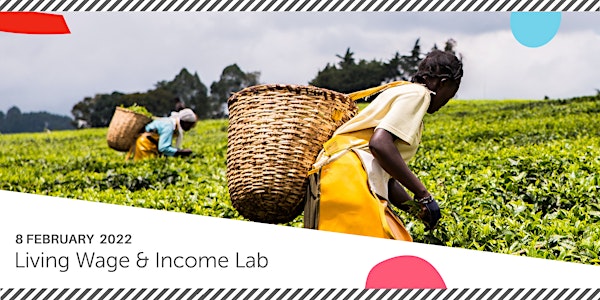 Living Wage & Income Lab
How can we create fairer food supply chains and ensure that farmers and farmworkers earn a living income?
About this event
On February 8 at 10AM CET, you can click here to join the Zoom event!
Taking advantage of the virtual universe that allows us to cross borders, the Living Wage & Income Lab is opening up to involve new partners in the discussions around the importance of living wages and incomes in the agri-food sector. In other words, to co-create innovative solutions to make food supply chains fairer and more inclusive.
In our first virtual open session, the lab will build on business practices that truly benefit farmers and farm workers in food supply chains. You can expect to learn from the journeys of Tony's Chocolonely, Eosta and Fairtrade Original towards fair cocoa, avocados and coffee. We will also have the Oxfam team on board, direct from Ghana, to highlight effective interventions for companies to realise a living income in their chains.
This lab session will take place via Zoom from 10:00 - 11:00 (CET) on Tuesday 8 February.
Meet your panel, from left to right:
Moderator: Bahram Sadeghi (TV director & host)
Speakers: Lotje Kaak (Fairtrade Original), Paul Schoenmakers (Tony's Chocolonely), Monique Mooij (Eosta) and Uwe Gneiting (Oxfam America).

Get ready for an interactive session and lots of co-creation with like-minded agri-food stakeholders.
We hope to see you there!
Fairfood team
www.livingwagelab.org | www.fairfood.org
Discover the lab
Developed in 2015 in partnership with the NGO Hivos, the Living Wage & Income Lab is now part of Fairfood's RECLAIM Sustainability! programme, a 5-year strategic partnership with the Dutch Ministry of Foreign Affairs to foster inclusive and sustainable value chains.
After 6 years of productive meetings, the Living Wage & Income Lab is reaching its 20th session. Starting this February 2022, we will organise 3 - 4 lab sessions per year online, where you will have the opportunity to work with other companies on closing living wage and income gaps, and deep dive on how to benefit from different methods and tools. We will discuss challenges and co-create solutions, and most importantly, you will be part of a unique space where you can easily find strategic partners.