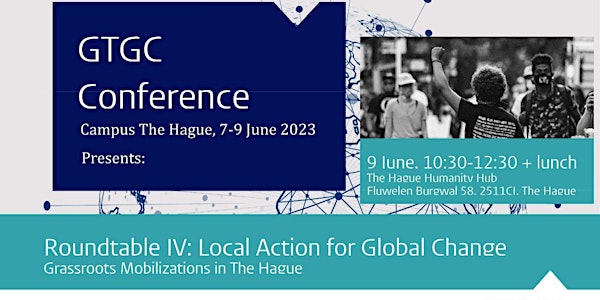 Local Action for Global Change in The Hague
Join us for a plenary roundtable, small group discussions, and lunch to learn about possible challenges in local action for global change.
By The Hague Humanity Hub
Date and time
Friday, June 9 · 10:30am - 1pm CEST
Location
The Hague Humanity Hub 58 Fluwelen Burgwal 2511 CJ Den Haag Netherlands
About this event
2 hours 30 minutes

Mobile eTicket
The Hague, the International City of Peace and Justice, is not only a major hub of embassies, international organizations, and NGOs, but also a hive of grassroots activism on global issues. Bottom-up social movements engage global questions around culture, environment, food security, human rights, refugees, and more. This special event brings together conveners of local movements for global change to exchange experiences of mobilizing citizens around global challenges. What works (and what doesn't)?
Join us at the Hague Humanity Hub on Friday, 9 June 2023 @ 1030-1230 for a plenary round table and small group discussions to learn about possibilities and challenges in local action for global change. The event will be followed by a networking lunch
This roundtable is part of and organised in collaboration with the Global Transformations and Governance Challenges (GTGC) conference of Leiden University. More info here.
The speakers for this event are:
Tom Marshall:
Tom believes that work should help you thrive as a human being while making the world a better place. He's been active with Extinction Rebellion since 2019; focusing on training and growing the climate movement. Professionally, he uses the same skillset as a Workshop Facilitator & Coach for young professionals who are striving to create a more sustainable world. He previously worked as a strategy consultant at Deloitte, so acts as a bridge in shaking up business as usual.
Maral Khajeh:
Maral Khajeh is an Iranian/Dutch lawyer and peace advocate and has worked for the global pro-bono law firm Public International Law and Policy Group, the Erasmus Prize Foundation and Nonviolent Peaceforce South Sudan. She coordinated leadership & peace projects in North and East Africa. As she lived in Egypt and South Sudan, Maral worked closely with civil society. Through her work she always tries to connect Human Rights with Art. Maral currently works at The Hague-based human rights organisation Justice & Peace Netherlands as the Programme Coordinator of the global temporary relocation initiative for human rights defenders at risk, Shelter City.
Arna van der Sloot:
Arna deals with social issues in which society, the extreme extremes and prejudices within this society are central. She stands up for minorities, helps welcome people into society and offers them an opportunity to participate. She founded, Arna's Production House which is an innovative company and a creative partner when it comes to theatre, film or voice productions.
Yussuf Abdi:
Yussuf is a lawyer, active with Hijaz Gemeenschap, advocating for anti-discrimination and other important social causes. Yussuf has an unwavering commitment to seeking justice, and a deep passion for making a positive impact.
--
This event is a part of the Global Transformations and Governance Challenges Conference. GTGC is based in The Hague, a world centre of global governance as well as political capital of the Netherlands. The GTGC programme brings together scholars from different faculties at Leiden University, working in highly interdisciplinary teams.
About the organizer
Supporting and strengthening The Hague ecosystem for a more peaceful and just world.