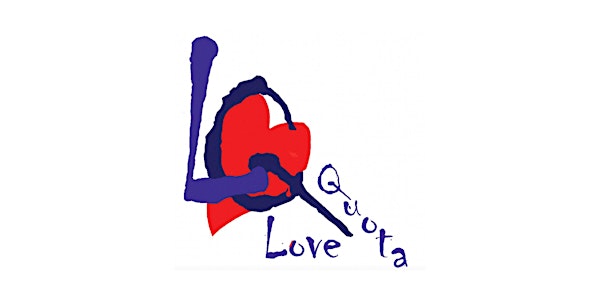 Love Quota
Mixed media event | Living Room Concert
When and where
Location
Rokin 87f 87f Rokin 1012 KL Amsterdam Netherlands
About this event
Love Quota returns after many years to bring people together over art, food and philanthropy.
We are a not-for-profit event; proceeds go to performing artists and a chosen charity.
This first Love Quota of 2022 sponsors the International Anti-Poaching Foundation in support of the Ashakinga (https://www.iapf.org/akashinga).
Evening composition:
9 performances spanning music, poetry and movement (15minutes each)
Two artists sketching/painting impressions throughout (pieces for sale after)
A short film screening by a local director/producer
Food & Beverage (included in ticket)
Resident DJs
Agenda:
19:00 - 19:30 | Doors open. Food served. Seats taken.
19:30 - 19:45 | Doors close. Introduction to the evening.
19:45 - 20:00 | Stories | Alina Hinterberger
Alina was Born into a family of artists and raised on expression. Her work - exploring themes of love, seasons, coming of age, and travel - is characterised by deep beauty and sharp wit. Alina writes short stories and spoken word, with an upcoming novel in the works. @whothefuckisaly_
20:00 - 20:15 | Music | Ze Maria
Ze is a Portuguese saxophone player based in Amsterdam trying to reproduce inner worlds through sound. Influenced by the ancient sounds, those without time. Obsessed by silence. https://www.youtube.com/watch?v=KFiuDJdNNng&list=LL&index=1
20:15 - 20:30 | Poetry | Rebecca Took
Published writer, poet, spoken word artist & the founder of 'Body Electric'. Birmingham-bred Rebecca Took is a writer by trade as well as passion. Her poetry ranges from lyrical melancholic to confrontational/comedically obscure. She's obsessed with the colour green. @Rebeccatook
20:30 - 20:45 | Music | Thy Apostle
Thy Apostle comes to us from the ashes of the Blue Desert. A multi-media artist/musician, his style combines macabre with magnificence. A specific messenger of soul, his guiding artistic ventures balance between morose and mirthful. Heed not the folly of man. Thy Apostle is One. @thy_Ipostle
20:45 - 21:00 | Film Screening | ??
30 minutes break
21:30 - 21:45 | Music | Lutsa Horváth
Vocalist, multi-instrumentalist, writer, painter and founder of Sundry events. Lutza's in the sky with diamonds; observing life and peeking into minds to dissect narratives. Her prose/poetry ponder existence & mind states. Her music follows folkish souls. @luciferhth
21:45 - 22:00 | Movement | Emil Filippo
Multidisciplinary or indecisive. You decide. Famous for defending lost causes, Emil believes that humour and emotion will save the planet. What a pity that he takes himself so seriously... As the carrier of emotions, the Body is the central element of Emil's work.
22:00 - 22:15 | Comedy | Marjolein Charlotte Van Vliet
A combination of satire, romanticism and plain awful jokes is what Marjolein thrives on. She tells stories about life's uncertainties and painfully relatable discomforts and is unafraid of taking the piss on herself in the process. @spiegelpaniek
22:15 - 22:30 | Music | Murat Baysal
Murat is a self-taught nomadic musician, his music is inspired by life, nature, soul searching and genres like Classical, Spanish and Jazz. Murat's sound transports you to an otherworldly landscape. Hang on to the first note and surrender to a journey into dreamworld. @muratbaysalmusic
19:00-22:30 | Paintings & Sketches | Mila & Robert
> Mila found art in a dark place. Creation allowed her to see the world differently. Exploring mind with paint instead of thought. To Mila, Art is healing. Spray and acrylic are her primary forms.
> Robert, an Art graduate from UoT, combines tech & art to aid design. He founded the Eduverse for educational tools that integrate the abstract & synthetic worlds. Catch him playing music, reading poetry and sketching life in bars around Amsterdam.
Then, for those with dancing shoes who do not want the night to end...
22:30 - 00:00 | Soul & Funk DJ | Soulfinger
Catch Soulfinger with his partner Miss Hotwax spinning regularly around Amsterdam at their event Souldrippin. Expect to hear 60s/70s funk/soul/latin/afro, maybe even some 60s classic beat/garage. Guaranteed to get you on your feet. @souldrippin
00:00 - ??:?? | Resident DJ Jaqueline Bedfa
Menu:
Hearty vegan soup - (tbd; probably Thai pumpkin and sweetcorn)
Baked jacket potato with 3 delicious toppings
Wine, beer, soft drinks, tea and coffee
- Email lovequota.nl@gmail.com to order your meal