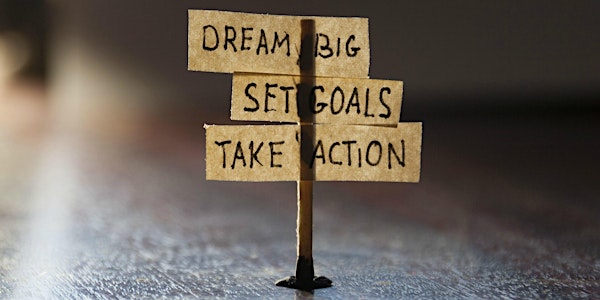 MAKE IT HAPPEN - MASTERCLASS
When and where
Location
Tribes Rotterdam Wilhelminatoren 1-40 Wilhelminaplein 3072 DE Rotterdam Netherlands
Description
MAKE IT HAPPEN MASTERCLASS
SET UP A SOLID STRATEGY TO ACHIEVE YOUR GOALS IN 2020

Can you believe it?! 2020 is already right around the corner. Only a couple of days for a new journey to begin. Are you ready for take-off? Have you set new goals for the year to come? If not, now is the time to do so. Setting goals and making a plan, will help you actually achieve them. Achievements don't just happen. You have to take action in the right direction.
Have you reached your 2019 goals? If it's yes, congratulations! If not, what happened? Did you had a plan, but needed to change the course because of crucial life events? Or maybe you got stuck, overwhelmed or unable to get on track.
Wouldn't it be great if you could have the clarity and tools to...
S

et your goals

T

ake planned actions

R

eflect and refocus

A

bandon limiting beliefs

T

ackle problems and challenges

E

levate your energy

G

o from struggle and stress to structure and success

I

mprove your impact

Z

est and celebrate your achievements

End 2020 as your best year yet
Sounds perfect, right? While we both know that sometimes, suddenly the tables turn and life starts throwing you lemons. You can't hide from those circumstances and have to live up to it. If this happens, don't stop believing in your dreams and goals. Just remember that the harder the struggle, the sweeter the success.
How I got from aim to action
For a long time, I struggled and faced many challenges in life. As an ambitious person with lots of goals, but also a perfectionist who is hard to satisfy, I got stuck.
Stuck in the rat race, working my but off but not getting anywhere.

Stuck in overthinking mode by second-guessing everything. What if…this? What if … that?

Stuck in my energy level and got myself burned out.
But 3 years ago I said enough is enough. Old habits, aren't getting me new results. So, I adopted a new method that now seems to be very effective. I've set some pretty ambitious goals for 2020 like helping 1000 impact-driven women to build a business that makes a difference, becoming an advocate for gender equality at the UN level and running a marathon. Soon after implementing a new way of thinking and taking action, I began to reach the results I was aiming for. To date, I've inspired hundreds of women and worked with numerous ideal clients. I'm a representative of an international alliance of women organizations at UNIDO, one of the agencies of the UN. I went from running 0 to now 6K. The magic key to reaching these goals was a clear and conscious strategy.
I would love to share my method with you, so I created the MAKE IT HAPPEN Masterclass in which I show you how to keep your eyes on the prize and make things happen with clarity and confidence.
The MAKE IT HAPPEN Masterclass is an exclusive and intensive 1-day training for ambitious and impact-driven women entrepreneurs who want to (re)focus on their goals, (re)frame their plan, and (re)fuel their spirit to make their dreams come true.
In the MAKE IT HAPPEN Masterclass you will:
set your goals

plan your route

define and prioritize action steps

learn how to deal with obstacles and limiting beliefs

boost your productivity and motivation

build your routine
All just in 1 day!
The masterclass is very intensive and filled with practical and doable assignments. Therefore we'll work in a small group of max. 8 participants.
---
Who is this training for?
The MAKE IT HAPPEN Masterclass is for ambitious impact-driven women (entrepreneurs) who are
Sick of feeling stuck

Done making excuses

Willing to do whatever it takes
---
Investment
The Master class is offered for the special price of € 149,= excl. VAT, including all drinks, snacks, lunch, and workbook plus 3 special bonuses.

Bonus #1:
Two 1-on-1 Q&A calls (max. 60 min) via Zoom after day 30 and day 60.
These live calls are my way of making sure you get the support you need to make things happen.
Bonus #2:
Invitation for a celebration drink on April 3rd, 2020 to savor your successes.
Bonus #3:
A personal goodie bag
---
Guarantee
*I cannot give you a guarantee of success. I'll give you a valuable roadmap, but you have to take action and do the work.
*If you cannot make it to the masterclass you are allowed to sell your ticket.

---
So, can I save you a spot for this masterclass?
Now is the time to take action. Don't wait because time doesn't either.
Hope to see you!
Erica van Engel
Chief Empowerment Officer @ Belief in Business
---
Practical information
You're welcome from 9.30 a.m. The masterclass starts at 10 a.m. and closes at 4 p.m.
---
Submission of personal information
This masterclass is organized by Belief in Business. You enroll by ordering a ticket on this page. By enrolling you agree that Belief in Business will register your personal information and you'll be added to our e-mail list. We will take care of your data in accordance with our privacy policy.