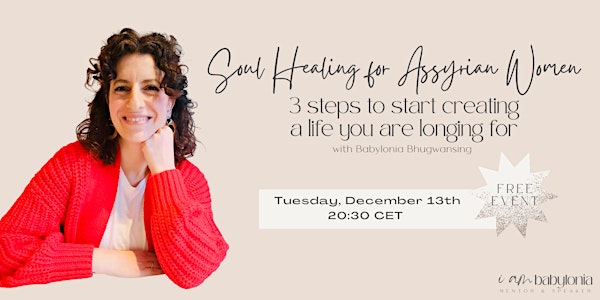 Masterclass - 3 steps to start creating a life you are longing for
Hey you, I am so excited you've decided to sign up for this MasterClass. Lets make this an memorable one. See you then, Babylonia
About this event
𝘐𝘧 𝘺𝘰𝘶 𝘣𝘦𝘭𝘪𝘦𝘷𝘦 𝘺𝘰𝘶 𝘤𝘢𝘯'𝘵 𝘩𝘢𝘷𝘦 𝘸𝘩𝘢𝘵 𝘺𝘰𝘶 𝘸𝘢𝘯𝘵 𝘪𝘯 𝘭𝘪𝘧𝘦, 𝘺𝘰𝘶'𝘳𝘦 𝘭𝘺𝘪𝘯𝘨 𝘵𝘰 𝘺𝘰𝘶𝘳𝘴𝘦𝘭𝘧!
And yet this is the most common challenge of Assyrian women who have been raised to believe that sticking to the rules is the right thing to do.
📩
This is your invitation to take a step forward, out of being torn between "what is right" and "what I want", away from self-doubt and self-destructing thoughts towards awareness, authenticity and abundance!​
𝘛𝘩𝘦 𝘴𝘵𝘳𝘶𝘨𝘨𝘭𝘦, 𝘵𝘩𝘦 𝘴𝘶𝘳𝘷𝘪𝘷𝘢𝘭 𝘮𝘰𝘥𝘦, 𝘵𝘩𝘦 𝘩𝘢𝘳𝘥 𝘸𝘰𝘳𝘬 𝘰𝘧 𝘱𝘳𝘦𝘵𝘦𝘯𝘥𝘪𝘯𝘨… 𝘪𝘵 𝘥𝘰𝘦𝘴𝘯'𝘵 𝘩𝘢𝘷𝘦 𝘵𝘰 𝘣𝘦 𝘺𝘰𝘶𝘳 𝘳𝘦𝘢𝘭𝘪𝘵𝘺!
​
🙋‍♀️I've been there too. Ready to give up on myself and my dreams, or poor boundary-setting and re-occurring (ancestral) trauma.
Not believing I deserve the life I am longing for. Beating myself up for having different dreams and goals in life than other women in my culture.
It was a vicious cycle which led to many mental and emotional challenges in my life.
​
𝑇ℎ𝑎𝑡'𝑠 𝑤ℎ𝑦 𝐼'𝑣𝑒 𝑐𝑟𝑒𝑎𝑡𝑒𝑑 𝑡ℎ𝑖𝑠 𝑝𝑟𝑎𝑐𝑡𝑖𝑐𝑎𝑙 𝑚𝑎𝑠𝑡𝑒𝑟𝑐𝑙𝑎𝑠𝑠, 𝘦𝘴𝘱𝘦𝘤𝘪𝘢𝘭𝘭𝘺 𝘧𝘰𝘳 𝘵𝘩𝘦 𝘈𝘴𝘴𝘺𝘳𝘪𝘢𝘯 𝘞𝘰𝘮𝘦𝘯 𝘸𝘩𝘰
​
❌Lost touch with her inner compas
​
❌Struggles with people-pleasing
​
❌Is tired of pretending to be someone she's not
​
❌Lacks confidence and self-love
​
❌Ends up in unhealthy and toxic (romantic) relationships
𝗜𝗻 𝗼𝘂𝗿 𝟵𝟬 𝗺𝗶𝗻𝘂𝘁𝗲𝘀 𝘁𝗼𝗴𝗲𝘁𝗵𝗲𝗿 𝘆𝗼𝘂 𝗰𝗮𝗻 𝗲𝘅𝗽𝗲𝗰𝘁 𝘁𝗼
✨Learn how to connect to your intuition
​
✨Identify and set clear boundaries
​
✨Letting go of expectations and embracing who you are
​
✨Makes bold moves and feels confident in her skin
​
✨Having insights on how to have healthy relationships
​
Are you ready to leave all the excuses behind and taking a step into your future? 
The only one who can give you what you're longing for, is YOU.
🗓Tuesday, December 13th,
8:30 PM CET via Zoom
​
💜Only 16/24 (free) seats available.
Looking forward to see you there!