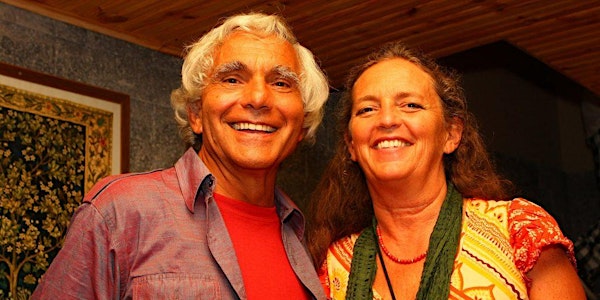 MASTERCLASS ODIN TEATRET
ZID Theater is very proud to welcome Eugenio Barba and Julia Varley from ODIN TEATRET for a masterclass at ZID on Saturday 11 March 2023!
When and where
Date and time
Sat, 11 Mar 2023 10:00 - 21:00 CET
Location
ZID Theater-City Art & Performance Center 1 De Roos van Dekamaweg 1061 HR Amsterdam Netherlands
Refund Policy
Contact the organiser to request a refund.
Eventbrite's fee is nonrefundable.
About this event
[ENGLISH BELOW]
ZID Theater verwelkomt met trots theaterregisseur Eugenio Barba en actrice Julia Varley van ODIN TEATRET (Denemarken & Brazilië), voor een programma dat bestaat uit een workshop, masterclass, documentaire, voorstelling en lezing.
Elk programmaonderdeel is afzonderlijk te volgen: u kunt zelf kiezen. Alleen voor de workshop is enige podiumervaring vereist. Voor elke activiteit zijn afzonderlijk tickets te bestellen.
Locatie: ZID Theater, De Roos van Dekamaweg 1, 1061 HR Amsterdam .
Voor vragen kunt u mailen naar reserveringen@zidtheater.nl
Volledig programma:
DEEL 1
Workshop: De Echo van de Stilte - Julia Varley | 10.00 - 12.00
Een stemworkshop gericht op het samenbrengen van de fysieke impuls, de tekst en de handeling. Een workshop waarin wordt gezongen en gesproken. In de workshop gaan we ook op zoek naar de eigen stem en de stem binnen een koor en hoe dit resoneert in de ruimte.
Lunchpauze | 12.00 - 13.30
DEEL 2
Masterclass: Creatieve principes - Eugenio Barba, Julia Varley | 13.30 - 16.00
In de masterclass wordt getracht de verschillende niveaus van de dramaturgie in het werk aan een theatervoorstelling en de basisaspecten van theater antropologie te definiëren. Er worden onderwerpen besproken als: dramaturgie van de acteur, zijn fysieke en vocale handelingen, de dynamische fysieke partituur en narratieve structuur, de dramaturgie van de regisseur en de tekst, en beweging en actie.
Middagpauze | 16.00 - 16.30
EXTRA PROGRAMMA
Documentaire: De kunst van het onmogelijke - De lange reis van Eugenio Barba en ODIN TEATRET + Presentatie | 16.30 - 18.00
De documentaire vertelt het indrukwekkende verhaal van ODIN TEATRET en Eugenio Barba vanaf de oprichting in een vochtige bunker in Oslo tot aan de veelzijdige laboratoriumprojecten die vandaag de dag wereldwijd plaatsvinden.
Presentatie: de verschillende internationale netwerken verbonden aan ODIN Teatret en ExploreZ Festival
DEEL 3
Werkdemonstratie/Voorstelling: Het vliegende tapijt - Julia Varley | 19.00 - 20.00
"De tekst is een tapijt dat ver weg moet vliegen". Julia Varley neemt ons mee op haar 40-jarige theaterreis. Ze vertelt over haar stemwerk en geeft vele voorbeelden van de transitie van geschreven worden naar de ruimte, van de kilheid van papier naar de vrijheid van interpretatie in een fysieke actie.
Slotwoord door Eugenio Barba | 20.00 - 21.00
PRIJS:
U kunt een deel van de masterclass individueel volgen, of alle delen samen:
1 DEEL = € 45 incl. 1 ticket naar keuze voor een voorstelling van ExploreZ Festival
2 DELEN = € 75 incl. 1 ticket naar keuze voor een voorstelling van ExploreZ Festival
3 DELEN = € 115 incl. Passepartout voor ExploreZ Festival
We hebben de prijzen zo laag mogelijk gehouden om het voor iedereen toegankelijk te maken.
DEELNAME EN TICKETS:
DEEL 1: Het aantal plaatsen voor de workshop is zeer beperkt! Om deel te nemen aan deze workshop is een zekere ervaring in de podiumkunsten vereist. Daarom is aanmelden verplicht (stuur een mail naar reserveringen@zidtheater.nl). Op basis van deze voorinschrijving worden deelnemers geselecteerd en uitgenodigd om te betalen.
DEEL 2 en/of 3: Koop je kaarten zo snel mogelijk op https://www.eventbrite.nl/e/masterclass-odin-teatret-tickets-537792049497, want er is slechts een beperkt aantal plaatsen!
Deze dag is een voorproefje op het ExploreZ Festival 2023 (van 12 tot en met 21 mei 2023): een internationaal, multidisciplinair festival waar nieuw, bruisend werk op het gebied van theater, dans, muziek en crossovers een plek vindt. EXPLORE met ons de creatieve ruimte, een ruimte met NO LIMITS!
ENGLISH:
ZID Theater is proud to welcome theater director Eugenio Barba and actress Julia Varley of ODIN TEATRET (Denmark & Brazil), for a program consisting of a workshop, masterclass, documentary, presentation and lecture.
Each program component can be individually followed: you can choose which part you want to participate according to your preference! Only the morning workshop requires some post-level experience. Tickets can be ordered separately for each activity.
ODIN TEATRET is a well-known international theatre organisation, founded in Oslo (Norway)in 1964 by theatre director Eugenio Barba. The theatre activities have resulted in the development of cross-disciplinary projects and international collaborations. One field of research is the International School of Theatre Anthropology (ISTA) where actors and dancers from all over the world meet with scholars to compare and scrutinise the technical foundations of scenic presence. Another field of action is the Theatrum Mundi Ensemble which, since the early 1980s, presents performances with a permanent core of artists from several theatrical traditions.
The day consists of 3 parts: a workshop (morning), a masterclass (afternoon) and a work demonstration (evening).
MASTERCLASS PROGRAMME
• PART 1 | Workshop: The Echo of Silence – Julia Varley | 10.00 – 12.00
Vocal course focusing on the unity of the physical impulse with the vocal text with action, of the sung with the spoken, trying to recognise the individual voice together with the choir and to reach the generosity that belongs to the voice given to space.
For this workshop it is mandatory to pre-register at reserveringen@zidtheater.nl as there is a pre-selection and a limited number of places!
• Lunch break | 12.00 – 13.30
• PART 2 | Masterclass: Creative principles – Eugenio Barba, Julia Varley | 13.30 – 16.00
The creative act is to transpose, structure and surprise. The masterclass will try to define the different levels of dramaturgy in the work on a theater show and the basic aspects of theatre anthropology touching on topics such as: actor's dramaturgy and its physical and vocal actions; dynamic physical score and narrative structure; dramaturgy of the director and text; movement and action.
• Afternoon break | 16.00 – 16.30
• Extra programme: The Art of the Impossible – The Long Journey of Eugenio Barba and ODIN TEATRET + Presentation | 16.30 – 18.00
The Art of the Impossible is a documentary that tells the amazing story of ODIN TEATRET and its founder and director Eugenio Barba. The film starts from the very beginning of this theatre company in a dark bunker in Oslo to the versatile experimental projects that are realised today in Denmark.
The presentation will explore the different international networks connected to ODIN TEATRET and ExploreZ Festival.
• PART 3 | Work demonstration/Performance: The Flying Carpet – Julia Varley | 19.00 – 20.00
Text is a carpet that must fly far away. Julia will take us on a journey of more than 40 years of practice of her vocal work exemplifying the words' passage from the written form to space, from the coldness of paper to the freedom of interpretation.
• Closing words by Eugenio Barba | 20.00 – 21.00
PARTICIPATION & TICKETS:
PART 1: The number of seats for the workshop is very limited! To participate in this workshop a certain experience in the performing arts is required. Therefore, pre-registration is needed(please send an email to reserveringen@zidtheater.nl). Participants will be selected and invited to pay on the basis of this pre-enrollment.
PART 2 and/or 3: Buy your cards as soon as possible, as there are only a limited number of places!
This day is a taste of the Explorez Festival 2023 (from 12 to 21 May 2023), an international and multidisciplinary festival where new vibrant work in the fields of theater, dance, music and crossovers takes place. EXPLORE with us the creative space, a space with no LIMITS!