Leer de tools en kennis om in de korst mogelijke tijd een EU-expert te worden!
About this event
Ben je een starter of stagiair in Brussel of in Nederland, en heb je te maken met EU affairs (EU instanties/permanente vertegenwoordiging/ public affairs/NGO/branche vereniging/consultancy)? Wil je kennis maken met de vaardigheden die nodig zijn in EU public affairs? Wil je een stap voor zijn en vanaf dag één waarde toevoegen aan je organisatie? Wil je andere starters and stagiairs leren kennen om je netwerk te vergroten en vrienden te maken? Dit is je kans!
Of is uw organisatie actief in Brussel en werkt u veel met stagiair en/of starters? Moet u telkens weer deze starters en/of stagiairs inwerken? Wilt u hen een vliegende start laten maken en bovendien hun "Brussels-experience" aangenamer en leuker maken? Bijvoorbeeld door meteen hun netwerk te vergroten?
Schrijf ze dan in voor de EU-starters/stagiairs inwerk training van Milos Labovic en Shannon van Schaeck Mathon in samenwerking met Holland House Brussels! Tijdens deze intensieve maar leuke training leren uw stagairs/starters dé vaardigheden om meteen mee te kunnen lopen in Brussel. Bovendien boren ze een leuk en interessant netwerk aan- waar u en zij profijt van hebben!
De training is enorm praktisch en richt zich op de volgende zaken;
- Hoe werken de Europese instellingen en hoe werk jij met de Europese instellingen?
- Hoe monitor en analyseer je Europees beleid en wetgeving? Hoe en waar vind je de relevante informatie zonder het overzicht kwijt te raken?
- Hoe organiseer je een succesvol evenement in Brussel?
- Hoe schrijf je een beleids briefing?
- Shortcuts to success!
Aan het eind van de dag een informele borrel om elkaar te leren kennen. Op die manier heeft uw stagiair/starter en uzelf direct een netwerk in Brussel!
Meld jezelf of uw starter/stagiair hier aan!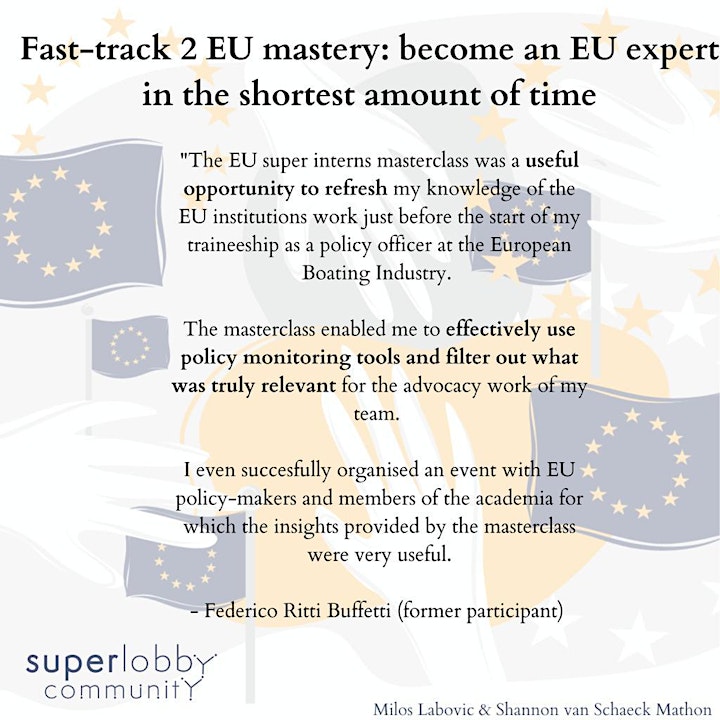 Organizer of Masterclass: word in de kortst mogelijke tijd een EU-expert!
Milos Labovic and Shannon van Schaeck Mathon are co-owners of the newsletter "The Superlobby Community" in which they share weekly tips and tricks about lobbying, public affairs and political comms. Besides, they also host events, and a masterclass for interns to help them kick start their career in Brussels.
Milos worked nine years in Brussels for the Province of Zeeland, wrote the book the EU Superlobby, and currently works as lobbyist for the Transport Authority in Amsterdam. Shannon is in last year's cohort of the MA European Public Affairs at Maastricht University, and is currently finishing her second masters European Law also at Maastricht University. Prior to the EPA master, she worked for a public affairs consultancy in Brussels.