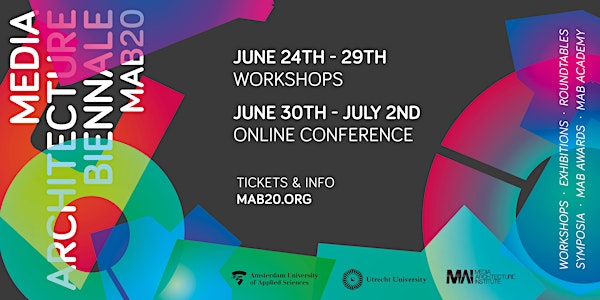 Media Architecture Biennale | MAB20 | Guest List
MAB20 GUEST LIST
By Amsterdam University of Applied Sciences
Date and time
Thu, 24 Jun 2021 05:00 - Fri, 2 Jul 2021 08:00 PDT
About this event
Dear MAB20 Guests,
You are invited to join us online at MAB20 for workshops, keynotes, symposia, virtual exhibitions & more!
The Media Architecture Biennale is the world's premier event on media architecture, urban interaction design, and urban informatics. It brings together architects, artists and designers, leading thinkers on urban design, key industry and government representatives as well as community activists. Together, we explore the design and role of media in the built environment and its implications for urban communities and ecosystems.
LOCATION: MAB20 will take place as an online event
This year, due to the ongoing global pandemic the Media Architecture Biennale had to be adapted and re-imagined in an online format for the first time. During the past few months, the MAB20 Organizing Committee has explored and experimented with multiple possibilities on how to best serve the worldwide MAB-Community and translate the atmosphere that we were planning to create here in Amsterdam and Utrecht to an online environment.
DATES
The MAB20 Program will take place online:
Workshops | June 24th - 29th | via Zoom
Online Conference | June 30th - July 2nd | via virtual conference platform
All sessions and activities (keynotes, paper sessions, symposia etc) will be held via Zoom, recorded, and made available on the platform after each session. All recordings will stay available on-demand for MAB20 attendees until August 1st. With this, we hope to enable equity of access to the content regardless of where a person is situated geographically while trying to provide convenient times as much as possible for our speakers.
MAB20 TICKETS
With a MAB20 ticket, you will have access to the entire MAB20 Program - except for workshops. Workshop registrations are set up and managed by each of the workshop organizers. To check out our diverse list of workshops click here, and follow the sign-up instructions described by each of the workshop organizers.
After finalising your registration, you will get a confirmation email. Once we are closer to the biennale, we will email you with your personal link to access the MAB20 virtual conference platform and also details about how to navigate it. In the meantime, we invite you to browse through the MAB20 Program
In case you would like to invite people from your network to also join us at MAB20, you can share this link, and they will be able to register for a MAB20 ticket.
TERMS & CONDITIONS
At MAB20 we aim to create and provide an environment of mutual respect and kindness, recognizing our differences and being open to learning from each other.
Please take a moment to read MAB20s Code of Conduct and Participation Guidelines. We ask that everyone participating in the MAB20 conference agrees to abide by them.
Virtual Conference Consent: Recordings of sessions, chats, questions, and answers will be captured and made available for later viewing. By registering for the MAB20, you are granting permission to record your comments and questions during sessions. Please note: You cannot register for this event unless you give consent.
For more information, please review the Media Architecture Institute Privacy Policy.
ORGANIZERS AND PARTNERS
MAB20 is organized by the Amsterdam University of Applied Sciences and the Urban Interfaces Group at Utrecht University, in collaboration with the Media Architecture Institute.
See our Partner page for a full overview of collaborators and sponsors
JOIN THE MAB-COMMUNITY
Join the MAB-Community and together let's continue to explore and shape the field of Media Architecture.
Join us on Facebook | Instagram | Twitter | LinkedIn
Sign Up for our monthly newsletter Here
MORE INFO & CONTACT
www.mab20.org | info@mab20.org