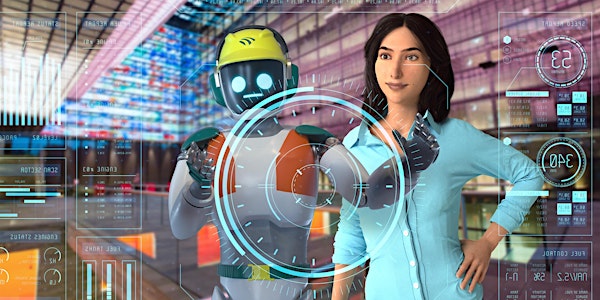 Media Expoplein, keynotes & workshops
Op het Media Expoplein van de Innovatiedag worden de laatste ontwikkelingen uit de media-industrie tentoongesteld.
When and where
Location
Nederlands Instituut voor Beeld en Geluid 1 Media Parkboulevard 1217 WE Hilversum Netherlands
About this event
Maandag 3 oktober is de dag waar je een kijkje in de toekomst van de media-industrie krijgt en je de laatste innovaties gepresenteerd krijgt.
Deze dag wordt gehost door Joost Koning (BM) en bestaat uit inhoudelijke sessies (plenair en parallel), netwerken en een expomarkt.
Het ochtendprogramma is van 10.00 tot 12.15. We beginnen met verschillende lezingen van spraakmakende en internationale sprekers. De ochtend wordt afgesloten met een paneldiscussie met vertegenwoordigers van toonaangevende mediabedrijven.
Sprekers:
– dr. Ellen ter Gast (Medisch Bioloog en praktisch filosoof)
– Channah Blocq (NVIDIA)
– Arno Lubrun (META)
– Paul van den Heuvel (EMG)
Panel:
– Egon Verharen (NPO)
– Lara Ankersmit (Financieel Dagblad)
– Taco Zimmerman (Beeld & Geluid)
– Giovanni Piccirilli (RTL)
Vanaf 12.00 uur gaat het Media Expoplein open, hier presenteren deelnemers hun laatste innovaties voor de media-industrie. Op het Media Expoplein staan de volgende bedrijven met hun laatste innovaties.
–META (VR technologie)
–XR Lab (AR technologie)
–Amberscript (automated speech to text software)
–VIDA (Content management)
–MediaLab (Content sharing)
–Kijkwijzer
–Panasonic (Monitors and other products)
–Get Your Studio (Pop-up studio)
–Turff (Direct advertising to students)
–RauwCC (Virtual influencers)
–Planet X (Smart filming technology)
–Splashtop (Remote access software)
–BM
Vanaf 13.00 begint een bomvol parallel programma met workshops en lezingen van verschillende bedrijven die op het Expo Plein staan, van de NPO en we sluiten de middag af met een Q&A met Victor Knaap van Media.Monks onder leiding van George Frederiks.
Het programma:
Blue Stage
13:00 – 13:45 BNR/ LIST'N Case study van D8: Opzetten van het merk LIST'N
14:00 – 14:45 Splashtop livestream Talkshow
15:00 – 15:30 Panasonic Smart monitors
15:45 – 16:15 Planet X Virtual Production in Nederland
16:30 – 17:00 Highlight van de dag en Q&A met Victor Knaap (Media.Monks)
Splashtop Stage
13:00 – 13:30 Splashtop software voor remote werken
13:40 – 14:10 RauwCC Virtual influencers: de Renaissance van de mascotte
14:20 – 14:50 HUMAN, NTR, KRO-NCRV Wrap-up Dark social: 10 belangrijkste lessen
15:00 – 16:15 Media Perspectives Verantwoorde AI voor Media
BenG LAB 1
13:00 – 13:30 Amberscript Geautomatiseerde spraak naar tekst software
13:45 – 14:15 Turff (Start-up) Overzichtelijk huishouden voor studenten en direct advertising
14:30 – 15:30 ROM Start-up sessies (besloten)
15:45 – 16:15 Get Your Studio pop-up studio's
BenG LAB 2
13:00 – 13:30 NPO Project Roulette
13:45 – 14:15 NPO DUO Showcases
14:30 – 15:45 VPRO Medialab Panelgesprek
Onderwijs ruimte 1
13:00 – 14:15 Hackaton: Audio van de toekomst
14:45 – 16:00 Deepdive Nieuwsmijding Een grote groep mensen wordt ongelukkig door het consumeren van nieuws. Ze zoeken naar de juiste balans tussen geïnformeerd zijn en zich goed voelen. Als mediamakers spelen wij daarbij ook een rol. Want houden wij eigenlijk wel voldoende rekening met het welzijn van ons publiek? Vanuit welke reflexen en gewoonten vertellen wij onze verhalen? En welke aannames hebben wij over onszelf en de mensen die wij bedienen? In deze interactieve workshop gaan we op al deze vragen in, en bespreken we ondertussen de inzichten uit recent onderzoek naar dit fenomeen, o.a. uitgevoerd bij de NOS en AVROTROS.
Onderwijs Ruimte 2
13:00 – 13:30 VIDA Content management systemen
13:45 – 14:15 Kijkwijzer
14:30 – 15:00 MediaLab Hans de Heus (CEO), onderzoekt samen met de bezoekers wat 'gratis' betekent wanneer je gebruikmaakt van een gratis tool om grote bestanden te delen, zoals WeTransfer of Dropbox. Spoiler alert: het kost je meer dan je misschien zou denken.
Naast dit prachtige programma zijn er ook diverse talkshows gedurende de dag, waaronder 'Social Hour powered by RauwCC' om 11:00 uur en 16:00 uur, waarbij verschillende presentatoren van het Rotterdamse bureau RauwCC in gesprek gaan over uiteenlopende thema's op het gebied van digitale media.