About this Event
Uniting all games industry professionals in San Francisco in an easy, relevant and cost-effective way.
Meet all relevant publishers, investors and game developers and start the trade show with a fully booked agenda.
Why choose for MeetToMatch:
The largest and most effective matchmaking platform during 2019, signups are 20% higher this edition, to date!
Highest rate of publishers and investors in San Francisco.
A private location for most of your meetings: sit down and talk business in a relaxed environment.
Participants choose to be part of our platform themselves, thus reply rate is really high.
Your data is safe: complying with EU GDPR and Californian privacy regulations, and the strictest European data safety standards.
MeetToMatch offers two great options for meeting as much relevant business partners as possible:
GET A TICKET - And meet your business partners at the MeetToMatch venue at one of the available tables (on Wednesday to Friday only), at a meeting point on the GDC Expo floor or any private location you or your counterpart has selected.
SOLD OUT - GET A PRIVATE TABLE - And meet your business partners at the MeetToMatch venue (NEW!) at your personal table on Wednesday to Friday, which will be exclusively available for you. Invite your business partners there easily, do some work in between meetings, or hang out and take a breath.
Tackling a game developers conference
We know San Francisco can be a hassle with loads of interesting people residing in hotel lobbies, while the other main group has a ticket to Moscone center.
We are solving this problem by offering our services, and making sure that people that have a valid ticket for the largest b2b games event in North America can meet up with the ones who haven't. Our technology sorts out if you have access to one of the meeting points within Moscone center, or if our private event location (just two blocks away from the venue) should be assigned. Of course, also many people outside the venue will have a dedicated meeting location such as a hotel room, lobby or rented loft, so you will most likely have a great meeting location anyway.
New this edition is the possibility to use our platform on Monday and Tuesday as well, where you are able to enter a private location for each meeting.
More info can be found here: http://www.meettomatch.com/sanfrancisco2020/
Two important pointers:
No need for a GDC pass to be able to participate. If any of the meeting partners has no access to Moscone center, an external meeting location will be assigned (two blocks away from Moscone center).
If you have a default meeting location such as a Hotel lobby/room or a GDC booth, you can set this as your default meeting location. You can share this during your Eventbrite checkout, or share this later over email with us.
A selection of our 2020 partners and participants: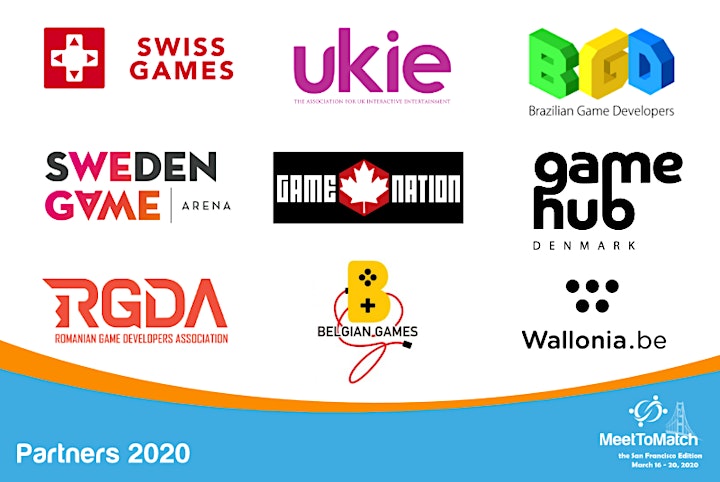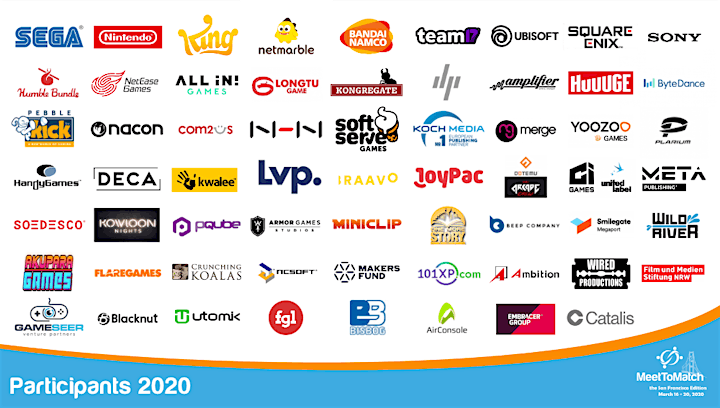 See current 2020 list here (scroll down) and see full 2019 list here (scroll down).
What are you waiting for? Get access, and start scheduling right away!
More info can be found here: http://www.meettomatch.com/sanfrancisco2020/
Note 1: The information provided when ordering your ticket is used to create a MeetToMatch account for The San Francisco Edition 2020.
Note 2: This ticket is for the MeetToMatch service only and does not include access to GDC or Moscone Center. We highly encourage you to purchase a valid ticket to get access to the GDC expo separately.