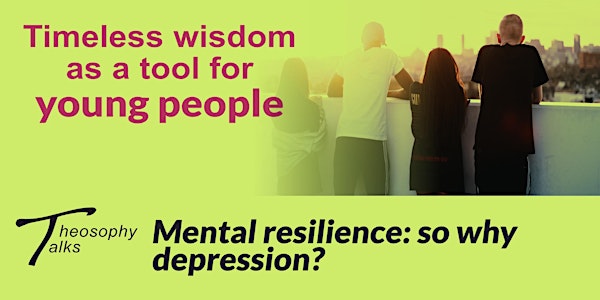 Mental resilience: so why depression? - Online Theosophy Talks
Theosophy Talks are live streamed every other Sunday night from Oct 10th - June 19th. Lectures within a series can be viewed independently.
About this event
All Theosophy Talks 2021-2022 are recorded live without an audience.
Watch the live stream, interactive!
Questions during the lecture? Mail us and they will be answered live. You'll find the email address in the confirmation email.
Two Theosophy Talks on 'Timeless wisdom as a tool for young people'
Because of the lockdown, many young people have become isolated and find it difficult to get out of it. Many have yet to manage to find a new perspective in life.
However, the crisis is not the cause but the trigger for depression and loneliness. The cause is the lack of a logical, heart and head satisfying philosophy of life.
Yet everyone can discover this timeless wisdom and thereby place the crisis in a broader framework. You then activate the tools within yourself that will get you out of your depression and isolation. You will begin to see the value of developing yourself and you will understand your unique role that you have to fulfill.
This timeless wisdom, by the way, is just as necessary for older people as it is for younger ones.
7 November 2021 - Mental resilience: so why depression?
Anyone who is master of their mind will not fall into depression. But how do you learn to master your thoughts? You do so by understanding the thinking process and dwelling on what thoughts really are.
21 November 2021 - Discover your task in Life
In a harmonious world, everyone is equal but not the same. When everyone brings in themselves, their own sound or color, the whole functions harmoniously. How do you find out what your task is?
Missed a Theosophy Talk? In an incompatible time zone?
Watch the Theosophy Talks at your leisure. Check the 'Lectures' section on our website!
10 Oct – From axiom to Truth - Our eternal pilgrimage to Truth
24 Oct – 7 Cosmic Laws and 7 principles in every being - Hermetic axiom: as above, so below
Timeless wisdom as a tool for young people
07 Nov – Mental resilience: so why depression?
21 Nov – Discover your task in Life
Care from the perspective of reincarnation and karma
05 Dec – Our mind as the foundation of our immune system
19 Dec – The Mystic Birth of the human soul in esoteric traditions
09 Jan – Life within Life
23 Jan – Our place and time in the Cosmic Tree of Life
Conscience: a cosmic view on a forgotten part of ourselves
06 Feb – Conscience: elusively abstract or familiarly concrete?
20 Feb – The magical power of following your conscience
06 Mar - The 'killing of enemies' in old Initiation tales
20 Mar - Can you live without killing? Ask your conscience!
Nature - one Life
03 Apr - What DNA does and doesn't determine
Spiritual beacons
17 Apr - Hidden wisdom of Norse mythology in the Edda
Initiation and the Egyptian Book of the Dead
01 May - Initiation and the Egyptian Book of the Dead
15 May - The Initiation of the Mystic Birth: the weighing of the heart
29 May - The Initiations of the Great Temptation and the Great Renunciation: the journey through Amenti
12 Jun - The Initiation of the Great Passing: becoming Osiris
Blavatskyhouse
De Ruijterstraat 74
2518 AV The Hague
The Netherlands
info@blavatskyhouse.org