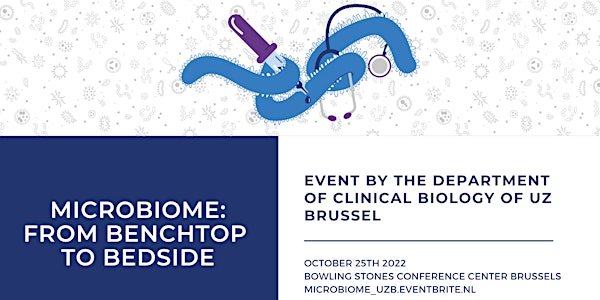 Microbiome: from benchtop to bedside
Join us at the first UZ Brussel symposium on Microbiome: from benchtop to bedside
When and where
Location
Bowling Stones 397 Steenweg op Brussel 1780 Wemmel Belgium
About this event
Speakers line-up (order of the day to be determined):
Dr. Sofie Thijs
At the bench: Overview of microbiome data analyses techniques
Dr. Sebastian Schmidt
Gut microbiome markers for pancreatic cancer
Prof. Danny De Looze
Fecal microbiota transplantation: is it the Holy Grail?
Prof. Sarah Lebeer
The Flemish vaginal microbiome & the Isala citizen-science project
Prof. Shari Mackens
The role of the microbiome in assisted reproductive technologies (ART)
Prof. Marie D'hooghe1 & Dr. Lindsay Devolder2
Investigating the gut microbiome in Multiple Sclerosis: promises, challenges and pitfalls
Special thanks to our sponsors who made this possible:
Altona Diagnostics
Qiagen
Illumina
Menarini Diagnostics
Cepheid
There are 200 seats available at the conference center.
On-site lunch is included in the entrance fee.