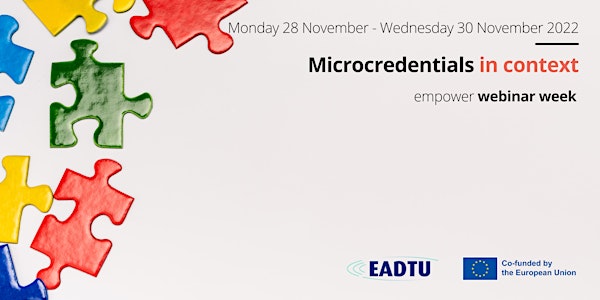 Microcredentials in Context | Webinar Week
Empower webinar week: Microcredentials in Context
About this event
With the EU Council Recommendation on Micro-Credentials, the European Union has laid an important foundation for the future development of micro-credentials and thus for lifelong learning and professional development in Europe. The Recommendation seeks to support the development, implementation and recognition of micro-credentials across institutions, businesses, sectors and borders by setting common European standards.
In this Empower webinar week, EADTU will put the European approach to micro-credentials in context. It will look at various national responses to the Council Recommendation, how universities and QA agencies plan to deal with micro-credentials and what the perspectives and preferences are of learners and employers.
The aim of the event is to share expertise and help European institutions in taking important steps towards high quality, recognized micro-credentials. In each session there will be time reserved for reflection and questions from the participants.
Programme
Monday 28 November | 15:00 - 16:30 CET | Quality and Recognition
15:00 Jenneke Lokhofff (Senior Policy Officer, Nuffic): The Rise and Recognition of Micro-credentials
15:30 Patrick van den Bosch (Head of VLUHR QA): results of the ENQA working group on quality assurance of Microcredentials
16:00 Caitlin Harvey (Head of Academic Projects - Microcredentials -, Open University UK): The Open University and the QAA Microcredentials Characteristics Statement
Tuesday 29 November | 14:00 - 16:00 CET | Institutional and national frameworks; responses to the Council Recommendation
14:00 Koen Nomden (European Commission, Team Leader Transparency and Recognition of Skills & Qualifications): the EU Council Recommendation on Micro-Credentials
14:30 Mareike Weiß (International Office, FernUniversität in Hagen): Institutional Policies on Micro-Credentials (results from the MCE project)
15:00 Diogo Casa Nova (Vice-rector for Innovation and Quality, Universidade Aberta): Adopting the European approach to microcredentials in a Portuguese context
15:30 Martin Ebner (Head of iMooX and Educational Technology at TU Graz): Microcredentials Austria
Wednesday 30 November | 14:00 - 15:30 CET | Employers and learners' perspectives about microcredentials
14:00 Mairéad Nic Giolla Mhichíl (Dublin City University): What have micro-credentials done for me lately? Reorienting discourses and action for social value.
14:30 Emma Francis (Irish Universities Association): Microcreds Innovate: dynamic enterprise collaboration for micro credentials
15:00 Carles Bruguera Trabal (Universitat Oberta de Catalunya): Learners' perspective of microcredentials
Disclaimer
Funded by the European Union. Views and opinions expressed are however those of the author(s) only and do not necessarily reflect those of the European Union or the European Education and Culture Executive Agency (EACEA). Neither the European Union nor EACEA can be held responsible for them.