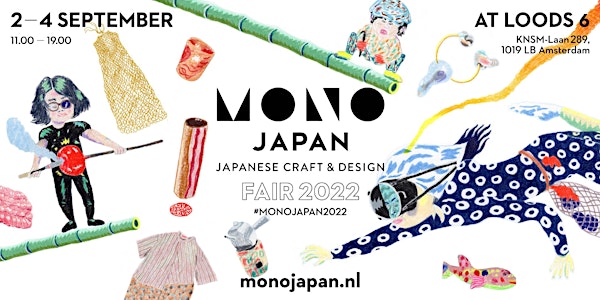 MONO JAPAN 2022
The 5th edition of MONO JAPAN - Japanese Craft & Design Fair - will be held in September 2-4, 2022 at Loods 6, Amsterdam
When and where
Location
Loods 6 289 KNSM-Laan 1019 LB Amsterdam Netherlands
About this event
We are delighted to announce that the MONO JAPAN FAIR is finally coming back in 2022, at a new location in Amsterdam. MONO JAPAN will again introduce carefully curated selection of modern Japanese artisanal products and makers to the Dutch and European audiences.
MONO JAPAN - Japanese Craft & Design Fair - 2022
Date : Friday, September 2nd, 2022 to Sunday, September 4th, 2022
Time: 11:00 - 19:00
Location : LOODS6, Amsterdam, the Netherlands
PARTICIPATING EXHIBITORS
ALIMANO, C&, COCOROSTORE, HARADASHOKODO, Haruka Matsuo, KYO-TO-TO, Laku Terai, mature ha., POLS, PYYLE, Shiori Ono - Tokyo Zokei University 'Tsubomi Collection', Synergiez - Chikara Kojima x OITA FUTURE BAMBOO PROJECT JAPAN, Transcape Supply, Yamanashi Textile Association
ART Exhibition
Annelinde De Jong, Mae Engelgeer, Martina Huynh & Jonas Althaus (studio Cream on Chrome) and Satomi Minoshima & Pauline Agustoni, Naotsugu Hashimoto, Yumiko Yoneda
MJ AIR Exhibition
Sekishu Washi x Jonas Althaus, Yoshida Shingi Shozoku x Maryam Kordbacheh, Aizu Lacquerware x Pao Hui Kao, Kanai Kougei x Paul Beumer, Chikara Kojima x Studio Nienke Hoogvliet
WORKSHOPS
Onion Shio-koji workshop, Let's play Japanese chess with Shgoito!, Kigata Banko Workshop(Making teacup with Japanese puzzled wooden mould), Japanese tea ceremony (Gyokuro green tea), Chashaku workshop, Flower workshop, Mud dye workshop and more!
Workshop tickets are available here.
(listed in alphabetical order)