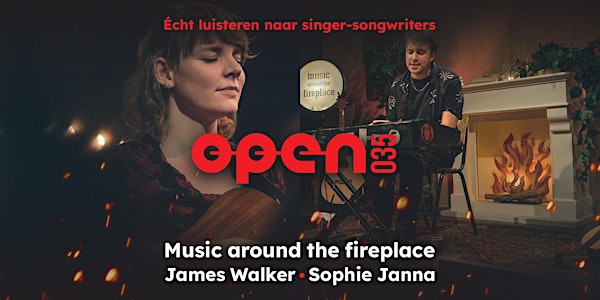 Music around the fireplace @ OPEN035 Festival
Met singer-songwriters James Walker & Sophie Janna.
When and where
Location
@AllArt 22 Korte Noorderweg 1221 NB Hilversum Netherlands
About this event
🔥Gratis entrée, deur open om 16.00, start 16.30🔥
Elke maand treden bij Music around the Fireplace talentvolle singer-songwriters op, akoestisch en onversterkt. Hier ontdek je de meest veelbelovende artiesten van dit moment, in een knusse huiskamer-setting waar nog écht wordt geluisterd naar de artiesten, met een klein publiek.
Speciaal tijdens OPEN035 is de entree gratis en staan James Walker uit Engeland en de inmiddels Hilversumse Sophie Janna op het podium. Ook de speciaal bier line-up is niet mis, deze is namelijk gecureerd door de Hilversumse podcast Schuim Der Aarde.
Je vindt Music around the Fireplace elke laatste donderdag van de maand bij @ All Art in Hilversum. Music around the Fireplace wordt volledig belangeloos gerund door vrijwilligers, voor de liefde voor muziek.
🔥 www.musicaroundthefireplace.nl
🔥 www.instagram.com/musicaroundthefireplace
🔥 www.facebook.com/musicaroundthefireplace
🔥 www.youtube.com/musicaroundthefireplace
------------------------
Het centrum van Hilversum bruist zaterdag 27 augustus a.s. weer als vanouds tijdens het gloednieuwe festival OPEN035. Van kunstwandelingen tot games spelen, en van optredens tot rollerdisco: cultureel Hilversum laat zich deze dag van zijn beste kant zien. Met vele belevenissen en activiteiten voor jong en oud zet OPEN035 de stad op z'n kop.
OPEN035 vormt eveneens de aftrap van de gelijknamige samenwerking tussen Hilversumse culturele instellingen en de wijken, met als doel kunst en cultuur toegankelijker te maken voor alle Hilversummers.