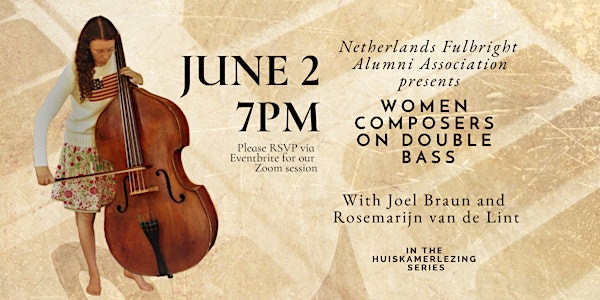 Music for Double Bass Written by Women Composers
Join us for a talk and performance about women composers for double bass.
About this event
The double bass, though recognizably present in Western music since the time of Bach, didn't coalesce into its current form until the beginning of the 20th century.
It was at this time that the double bass also began to be explored more broadly as a solo instrument. This era also witnessed the broader emancipation of Women into every sphere of society, including music and the arts.
This presentation will highlight this confluence by exploring music written for double bass by Women composers. Specific composers and works will be discussed and performed.
Joel Braun is Associate Professor of Double Bass at the University of Texas at Austin. As an orchestral musician he has performed with many of the world's leading orchestras, including the New York Philharmonic, the Detroit Symphony Orchestra, the Cincinnati Symphony Orchestra, and the Israel Philharmonic.
He is a former member of the Ft. Wayne Philharmonic and currently serves as Assistant Principal Bass of the Eastern Music Festival Orchestra under the direction of Gerard Schwarz. As a soloist and chamber musician, Joel has concertized at major universities, conservatories, and music festivals throughout the United States.
As an in-demand pedagogue, he has presented master classes at such institutions as the Universidad Nacional de Música in Lima, Perú, the University of Iowa, the Cincinnati Conservatory of Music, Michigan State University, the Cleveland Institute of Music, and the Interlochen Center for the Arts. He has held prior faculty positions at Ball State University and The Juilliard School Pre-College Division.
His principal study was with Eugene Levinson, principal bass emeritus of the New York Philharmonic, at The Juilliard School where he earned a Pre-College Diploma, B.M., and M.M. degrees.
Rosemarijn is an undergraduate student at the University of Texas at Austin.
She is majoring in Music Performance on double bass with Joel Braun, and she is doing a second major in environmental science.
She is from and grew up in the Netherlands, and moved to Austin in 2021.
Music-wise, she is interested in women in classical music and she is experimenting with jazz. Environmental science-wise, she is interested in environmental conservation. This summer she will be doing an internship with Curaçao Reef Renewal, a non-profit restoring the reef in the Caribbean and around the world.