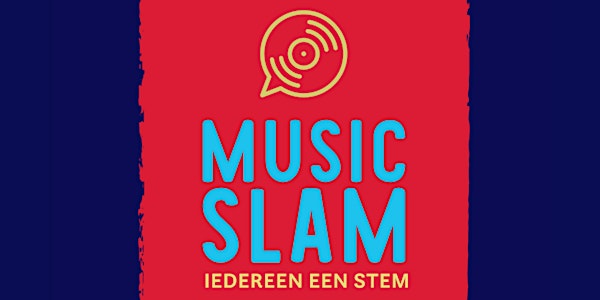 MusicSlam 2021
MusicSlam - gedichtenwedstrijd voor studenten van Rotterdamse middelbare en voortgezet onderwijs die meedoen met ons lesprogramma.
Refund Policy
Contact the organizer to request a refund.
Eventbrite's fee is nonrefundable.
About this event
Music Slam live! (Oké: stream...)
Als beloofd maken we alweer de derde [!] editie van de MusicSlam, nu met als thema 'gelijkheid, kansen voor iedereen'. Het HBS-gebouw ontwikkelt zich steeds meer tot broedplaats waar jongeren samenkomen in muziek, dans en spoken word. We kunnen je even niet binnenlaten maar nodigen je van harte uit voor onze livestream. Veertien finalisten staan alweer te popelen zich met ons te presenteren. Ze gaan volledig voor de workshops van woordkunstenaar Ivan Bjorn Cameron. Super gemotiveerd werken de jongeren onder zijn bezielende leiding keihard aan jezelf zijn, door je uit te spreken. Jongeren krijgen bij ons een mooie kans uitdrukking te geven aan wat er in hen leeft. We bieden ze een once-in-a-lifetime experience, een prachtige podiumervaring. MusicSlam is een gedichtenwedstrijd, concert en dansvoorstelling in één. De avond wordt mede mogelijk gemaakt door Poetry International, Albeda en MT010. Onze artistiek leider Maarten van Veen smeedt de disciplines aan elkaar met zijn regie. Maarten en DJ Eni-less reageeren met hun muzikale intuïtie op de teksten van de deelnemers en geeven ze een cool klinkend kader in op maat gesneden arrangementen van bijpassende muziek. De hele productie wordt ontwikkeld en gemaakt in het HBS-gebouw aan de Gravendijkwal.
Dit jaar werken we samen met de dansgroep van allround danseres Robin Kroes, onze buurvrouw next door. Geboren in Tilburg, begon ze op haar tiende met streetdance, belandde ze in het seniorenteam D-crew en nam ze deel aan het EK in Tsjechië en het WK in Engeland. Ze volgde Jazz/Urban aan Hogeschool Fontys, kreeg lessen in een bonte mix aan stijlen van Graham en Klassiek ballet tot Contemporary, indian, Urban en Jazz fusion. De wereldvermaarde Kibbutz Contemporary Dance Company in Israel nam haar aan voor een stage. Wat een buurvrouw!Woordkunstenaar Ivan Bjorn Cameron komt van oorsprong uit Suriname, groeide op in Schiedam en is niet meer weg te denken uit de kunstscene van Rotterdam. De oorsprong van zijn woordkunst ligt in zijn jeugd, als je nog klein bent en je niet kunt of durft uit te spreken. Hij noemt het 'bijna een soort kogels die je voelt in je bovenkamer' en die moesten eruit! 'Als kind boog ik als een zonnebloem altijd met de zon mee. Later kwam pas de realisatie dat daardoor de schaduw uit het zicht bleef.' Soul searching, kappen met de kerk, spreken en schrijven brachten hem tot zichzelf en zijn gevoelens. In essentie voelt hij zich hetzelfde als ieder ander mens: en een mens is liefde. 'In de kern zijn we allemaal lief.' Ivan Bjorn Cameron weet hoe je met spoken word positieve moleculen in werking kan zetten.
Kortom: Tune in op onze livestream, ga het voelen en maak het mee! Een avond vol positieve vibes in spoken word, dans en muziek, waar het HBS-gebouw nog lang van zal na zinderen.