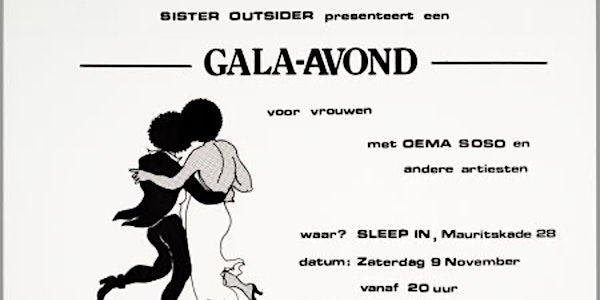 Mythologies / Methodologies
Mythologies/Methodologies: Approaching Feminist Collectivities of the 1970s and 1980s
Refund Policy
Contact the organiser to request a refund.
Eventbrite's fee is nonrefundable.
About this event
This four-part live-stream experience explores the legacies of feminist collectives across different (psycho)-geographies with presentations by: If I Can't Dance 2019–20 Research Fellow Giulia Damiani in dialogue with Genevieve Hyacinthe on ritualistic action and the Neapolitan group Le Nemesiache; Ros Murray who speaks on the film and video activism of Les Muses s'amusent (The Muses have Fun), a collective formed by Carole Roussopoulos, Delphine Seyrig and Iona Wieder in Paris; and Chandra Frank joined by Gloria Wekker in a discussion about the legacies of the black feminist lesbian collective Sister Outsider, co-founded in Amsterdam by Wekker, Tania Leon, José Maas and Tieneke Sumter. Moving between audio-visual essays, lectures and conversations, the event also includes a screening of the documentary film Delphine et Carole, insoumuses (2019) by Callisto McNulty and a concluding roundtable moderated by Elize Mazadiego on performance-based research methodologies.
October 24, 4-6:30pm
GIULIA DAMIANI AND THE NAEPOLITAN FEMINIST GROUP LE NEMESIACHE
With contributions by Genevieve Hyacinthe and Le Nemesiache
October 31, 4-6:30pm
ROS MURRAY ON LES MUSES S'AMUSENT AND FEMINIST VIDEO ACTIVISM IN 1970 PARIS
With streaming of Delphine et Carole, insoumuses (Callisto McNulty, 2019, 71 minutes)
November 7, 4-6:30pm
CHANDRA FRANK ON THE AMSTERDAM BLACK LESBIAN LITERARY CIRCLE SISTER OUTSIDER
Followed by a conversation with Professor Gloria Wekker
November 14, 4-6:30pm
CONCLUDING ROUNDTABLE
Moderated by Elize Mazadiego
[Image: Sister Outsider presents gala night for women, 1986, flyer by Jo Nesbitt]
Live-stream Concept and Realization by Lukas Heistinger with dramaturgy by Megan Hoetger and audio/visual support from Fan Liao and Temra Pavlovic. Live-stream audience moderation by Amalia Calderón and Naomi Collier Broms.
Mythologies/Methodologies is organised by the If I Can't Dance curatorial team (Frédérique Bergholtz, Sara Giannini and Megan Hoetger), and is realized in partnership with the Amsterdam School for Heritage, Memory and Material Culture, University of Amsterdam. Special thanks to Centre Audiovisuel Simone de Beauvoir.
If I Can't Dance is supported by the Mondriaan Fund and the AFK (Amsterdam Fund for the Arts).
Edition VIII – Ritual and Display is supported by the Prins Bernhard Cultuurfonds.
If I Can't Dance is a member of De Zaak Nu and Moker.