Description
Come play tabletop board games with
us all day on Saturday April 28th from 10am to 10pm.
This is an all ages event. Admission is free.
Nashville Tabletop Day is a celebration of board gaming in conjunction with International Tabletop Day. Nashville Tabletop Day brings together people from all over Nashville and Middle Tennessee to game and have fun in a safe, inviting environment. Browse our library of hundreds of games including titles like King of Tokyo, Splendor, Carcassonne, Kingdomino, Star Trek Panic, Ticket to Ride, and Settlers of Catan. Or feel free to bring yours to share with new friends and old.
Make sure to visit our Play to Win library. We'll have dozens of the newest games available to play. At the end of the event only those people who played that game are eligible to win it.
In addition we'll have thousands of dollars worth of prizes to give away throughout the day.
Last year's event sold out, with over 300 people in attendance. Our goal this year is to get over 400 people in attendance as we continue to grow this outstanding once a year event! Get your tickets today!
All levels of experience welcome.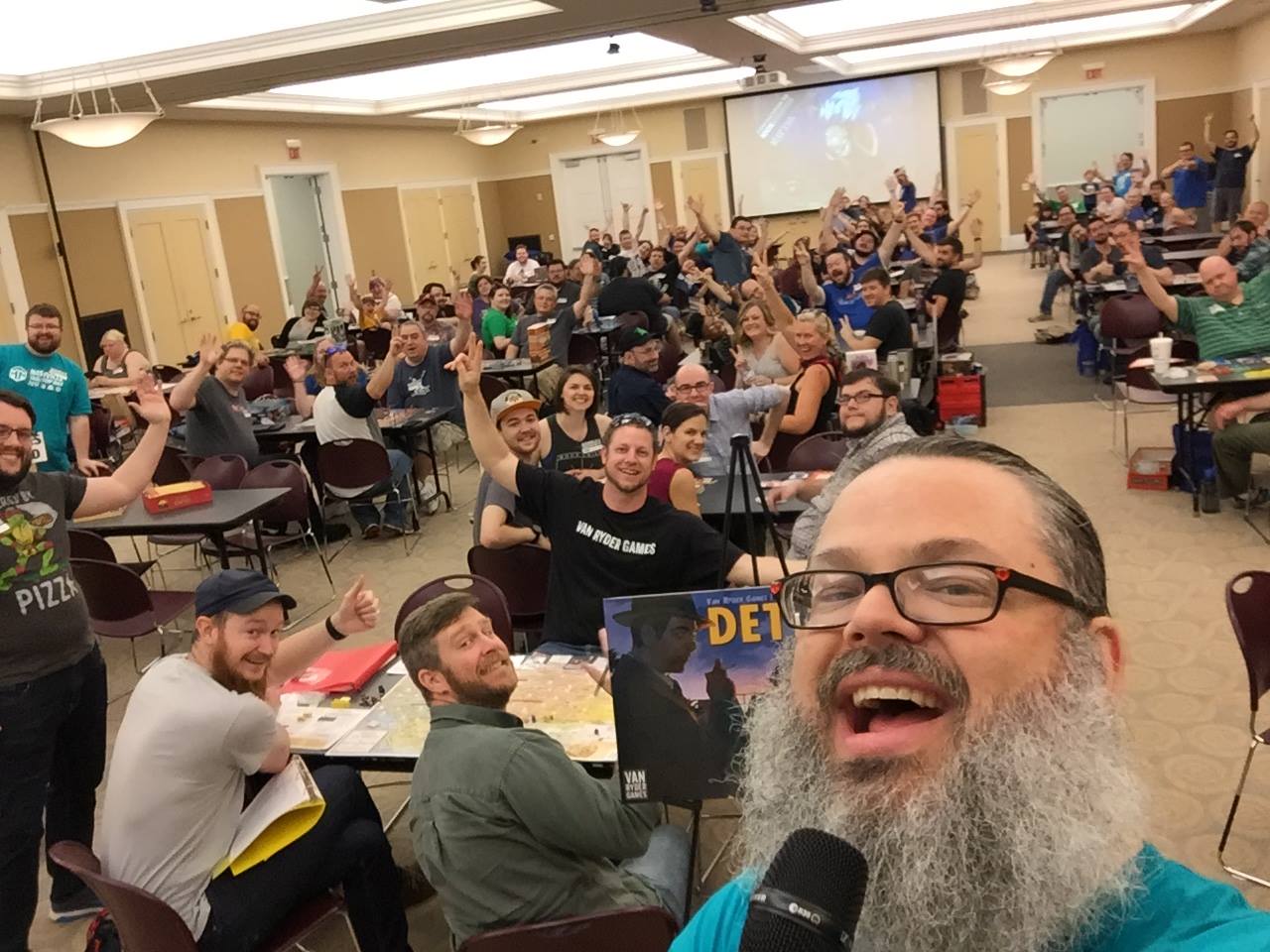 Browse photos from Nashville Tabletop Day 2017.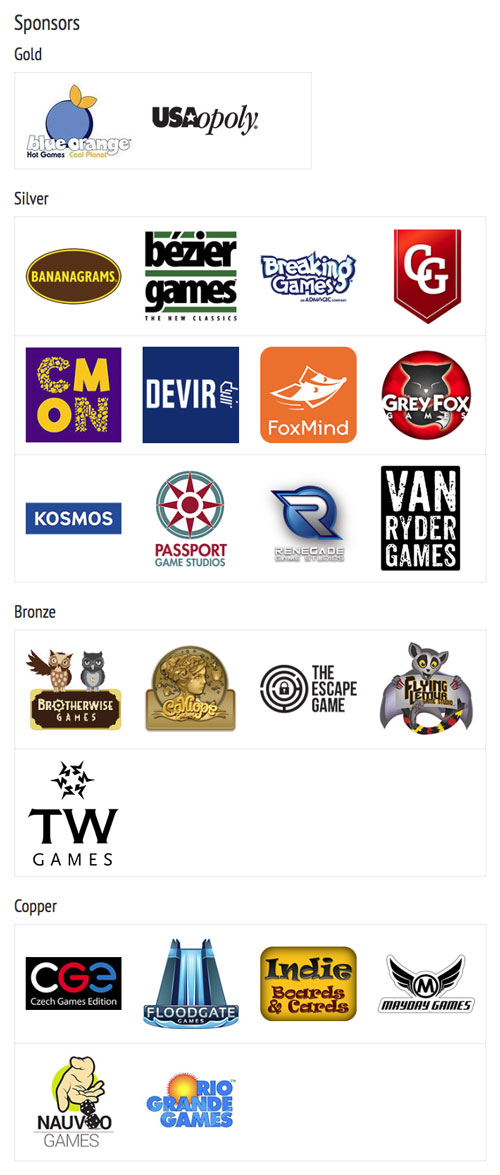 Would you like to be a volunteer for Nashville Tabletop Day 2018? We have shifts available from 9AM through 11PM CST. Shifts will be broken down into reasonable time slots so that everyone can enjoy the event.
Every volunteer will receive a staff version of the Nashville Tabletop Day 2018 shirt. All volunteers will still be eligible to win giveaways and play to win contests.

Admission - Admission to Nashville Tabletop Day is 100% free. We are selling shirts as an additional ticketed item. Shirts must be purchased in advance, but there may be a small number available for purchase at the event, subject to availability.
Where should I park? - The Watkins Community Center has a sizable free parking lot. Additional street and lot parking are located nearby.
Will I need my ticket? - Printed or digital tickets should be shown at the door so that we can check attendees in and keep track of head count.
Food / Drinks - Attendees may bring in their own food.
Children - As with all attendees, our goal is that children and their parents have fun while respecting the enjoyment of others. Children under the age of 10 must always be accompanied by a parent or legal guardian; minors age 10-17 must have a responsible guardian present at all times. Additionally the Watkins Community Center has a park and playground located just outside the building.
Harassment - Don't harass the other guests. If you're being harassed by a guest, please let a staff member know immediately and we will handle it. The full harassment policy can be found at http://www.nashvilletabletopday.com.
Door Prizes / Giveaways - Door prizes will be given away at 1pm, 5pm, and 9pm. We'll be using a new system this year to smooth prize delivery. At the appointed time we'll randomly select checked-in attendees and send them a text message to come claim their prizes at the table.
Play to Win - Nashville Tabletop Day will have a library of games which are eligible for play to win. The full rules will be posted at the event, but anyone checking out a game (including the group they play it with) is eligible for one entry per checkout. Winners for that game will be pulled from all players of that game throughout the day. Winners do NOT need to be present to win, but must be able to meet in Nashville within 2 weeks of the event to receive their prize.
View the complete list of current games in the Play to Win library. This list will be updated as new games are added.
Alcohol / Smoking (vaping) - Alcohol or smoking are not allowed on premises.
Sportsmanship - Don't be a jerk.
Lost Items/Theft - Nashville Tabletop Day, Meeple Mountain, and Watkins Community Center are not responsible for any lost or stolen property.

Can I bring my own games? - Absolutely! Even with a library of hundreds of games, we'll never have everything people want to play. Bring your own games to share, or put them in the "do not disturb" area and keep them set aside for your own use.
Who is running this event? - Nashville Tabletop Day is managed by Meeple Mountain, a board game news and reviews website based in Nashville.
Can I volunteer for Nashville Tabletop Day? - Absolutely. You can find more information about volunteering at http://www.nashvilletabletopday.com.
Are you looking for sponsors for Nashville Tabletop Day? - Totally. You can find more information about sponsoring at http://www.nashvilletabletopday.com.
Where else can I game in Nashville? - Certainly! Meeple Mountain hosts Nashville Game Night on the 1st and 3rd Wednesdays of every month. A number of other groups host board gaming events as well. You can find out more information on the Meeple Mountain Nashville gaming directory page.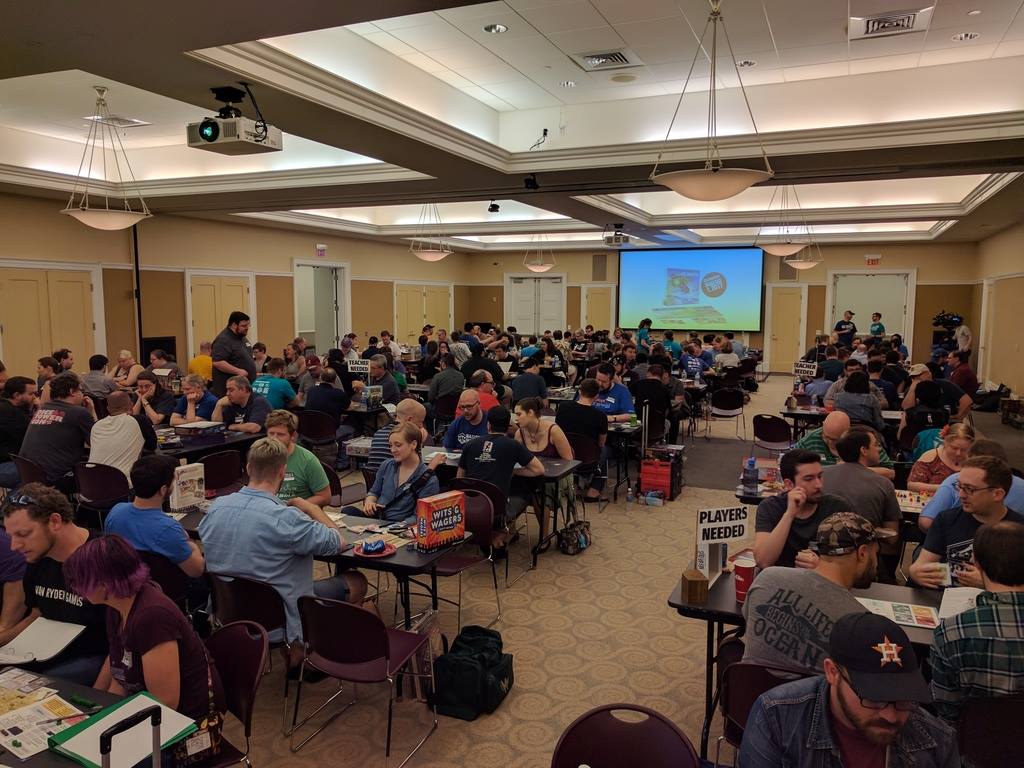 Nashville Tabletop Day 2018 tshirts will be two sided and feature a multi-color front with the following design and a single color back displaying sponsor logos.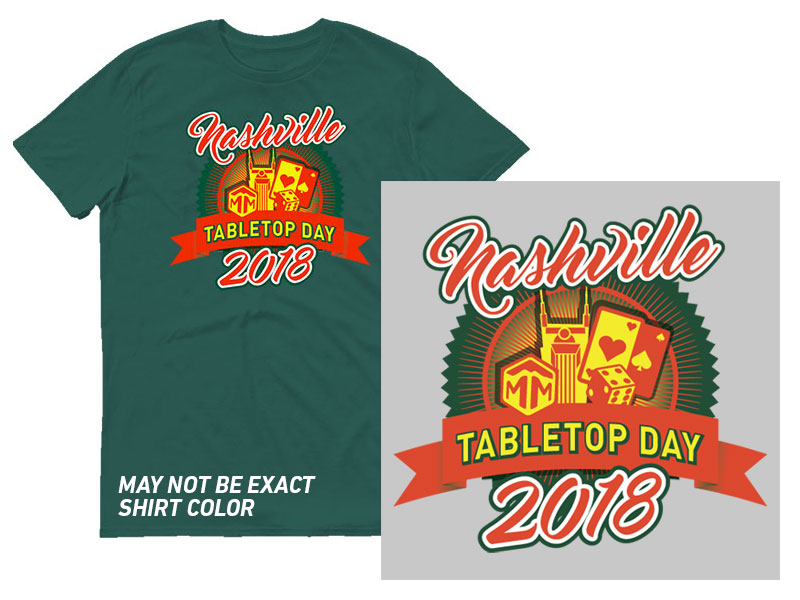 The official schedule will be announced closer to the event.

The game library for Tabletop Day will be open to all and will include hundreds of board games, card games, dice games, and kids games. To check out a game from the library, you'll need to leave personal identification until the game is returned. Feel free to bring your own games to the event.