Multiple Dates
Nature Explorers' Club for Kids, 7-11 years // 3 Membership Options
Event Information
Refund policy
Contact the organiser to request a refund.
Eventbrite's fee is nonrefundable.
Monthly Interactive Nature Club for Children, 7 - 11 years.
About this event
INTERACTIVE CLUB FOR NATURE EXPLORERS
The Green Living Lab's Nature Explorers' Club invites children aged 7- 11 years to wonder and interact with the natural world around them.
Children are guided to explore nature through sensory games, imagination, observation, inquiry and reflection. By observing life from their unique perspective as well as imagining the perspectives of diverse organisms, children develop understanding of other beings and of the processes and relationships within living systems.
Learning goals include developing curiosity about the natural world, intuition and reasoning skills, and the confidence to interact with nature responsibly.
CLUB INFORMATION
WHAT
Monthly Online Club for Children, 7 - 11 years
Language: English
Length: 60 minutes
WHEN
3rd Saturday of every month in 2021

Next Club: Saturday, 17 April
Times:
4 pm - 5 pm: Amsterdam (CET)
3 pm - 4 pm: London (GMT)

10 am - 11 pm: New York (ET)
DATES & THEMES
17 April: BEES & POLLINATORS. Biodiversity, Building a Bee Hotel
15 May: SEEDS TO TREES. Germination, Plant Anatomy
19 June: BUTTERFLIES & MOTHS. Metamorphosis, Colours, Patterns
24 July: TEAMWORK. Bees, Ants, Termites, Humans
21 August: WATER WORLD. Aquatic Life, Water Cycle
18 September: SOIL LIFE. Soil Organisms, Nutrient Cycle
16 October: NOCTURNAL ANIMALS. Diverse Sensory Perceptions
20 November: MYCELIUM. Forest Layers, Symbiosis
18 December: FOOD WEBS. Creating Nature Webs
3 WAYS TO PARTICIPATE
- ACORN Membership: 1 x Nature Explorers' Club + additional themed learning resources. €16.50 pp.
- OAK Membership: 3 x Nature Explorers' Clubs + learning resources. €43.50 pp.
- FOREST Membership: 9 x Nature Explorers' Clubs + membership badge + learning resources. €115 pp.
* Free for children of essential workers.
** If you cannot afford membership due to present hardship, please contact us to discuss options for participation.
Proceeds from the Nature Explorers' Club go to an animal shelter in Amsterdam, De Toevlucht. For info: www.toevlucht.nl.
ABOUT US
The Green Living Lab has been creating nature-inspired learning experiences for students of all ages since 2016. We are a multicultural team and offer workshops and programmes in English.
Our educators encourage students to experience nature with their senses first of all. We guide students to observe and contemplate life in nature and to form their own unique questions to direct their learning journey.
NATURE EXPLORERS' CLUB TEAM
Dieuwertje Smolenaars: Club Educator
At age 7, Dieuwertje wanted to become a nature explorer. Today, she is a nature educator with 15 years' experience of educating children aged 5-13 years.
She lives with a snake and a day gecko and makes wildlife films in her native Netherlands and worldwide.
Dieuwertje guides students to explore nature wisely, by developing wonder, empathy and respect for the natural world.
Aveen Colgan: Club Director
Aveen grew up in Ireland and has been a nature educator for 7 years. She is a consultant for social impact organizations and designs interactive gardens for learning and community.
She founded the Green Living Lab to help students become informed, inspired and engaged citizens.
Aveen directs the Nature Explorers' Club programme and online learning experience.
CONTACT
If you'd like further information on our Nature Explorers' Club programme and options for participation, please contact explorer@greenlivinglab.org.
OUR WEBSITE:
http://greenlivinglab.org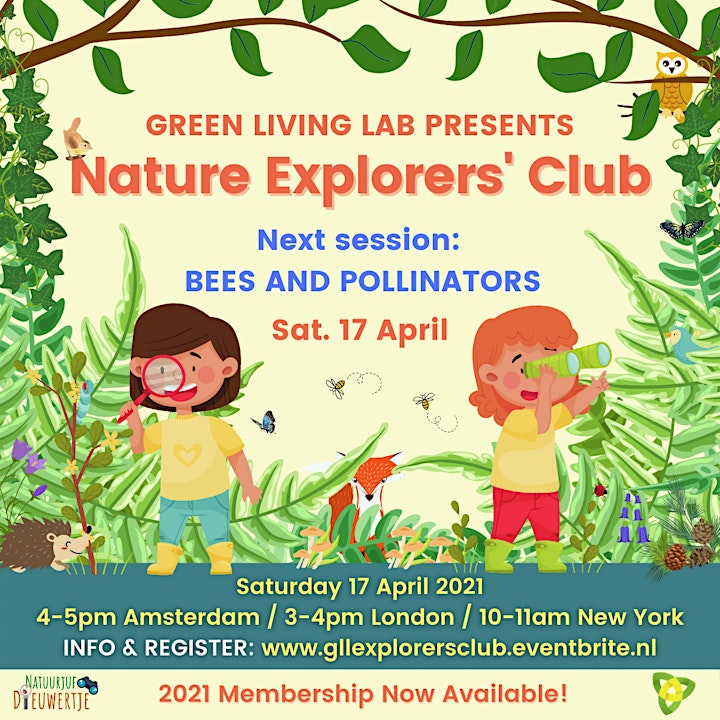 Location
Refund policy
Contact the organiser to request a refund.
Eventbrite's fee is nonrefundable.
Organiser of Nature Explorers' Club for Kids, 7-11 years // 3 Membership Options