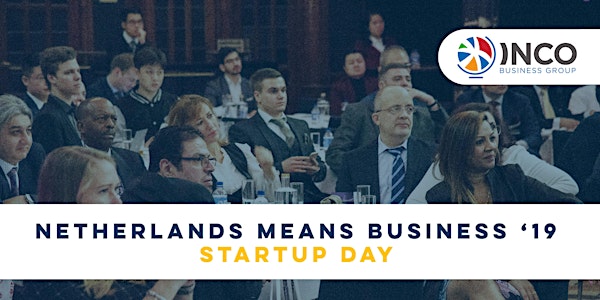 Netherlands Means Business '19 | Startup Day
Location
Avans Hogeschool Breda
Hogeschoollaan 1
4818 CR Breda
Netherlands
Expert panels, workshops, Q&A ánd company formation on-the-spot! Expand your business to the Netherlands!
About this event
Start Your Company on-the-spot!
150 Entrepreneurs & Experts
3 Exclusive Deals
5 Panel Discussions
One-on-one expert meetings
Expand your network!
​Prepare for Market Entry in the Netherlands
__________________________
Event Program
14:00 Welcome
14:00 What makes an interesting entrepreneurial climate ?
14:50 Getting familiar with Netherlands; Which region suits your needs best?
15:10 A practical approach; Connecting a lean startup strategy, to a lean corporate structure.
16:00 The Netherlands' most thriving industries.
16.20 A realistic view; What to expect during your startup phase from professionals- or government agencies. And how far will Google get you in your legal diagnosis?
16:40 Official closing by Breda City Council
16:50 Networking and One-on-One Meetings
Read more about our partners, panel members and location on our website.
Please note:
INCO will offer exclusive deals for visitors of the event. You can find the deals on our website.
The on-the-spot incorporation will take place in the morning of November 20th and is solely accessible for clients that have decided to incorporate their company on-the-spot prior to the event.
If you are interested in starting a company on-the-spot it is of utmost importance that you contact us at least 3 weeks prior to the event.
Important note:
- As of 8/11/2019 the event deals are no longer available for new interested parties. For further information and/or questions, please contact us.