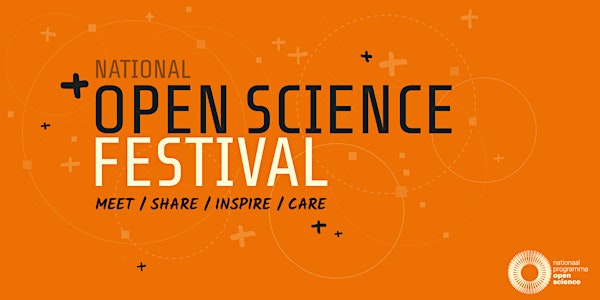 Netherlands National Open Science Festival 2021
The Netherlands National Open Science Festival will take place in an online setting.
About this event
Meet | Share| Inspire | Care
The National Open Science Festival is an opportunity to learn about the benefits of different Open Science practices. It will be the place to meet peers that are already working openly or that are interested to start.  Key to this day is sharing knowledge and best practices. 
Online Programme Thursday 11th of February
10:00- 11:40 Pre Festival Workshops
Open Source Hardware Building Session
How-To-Reprohack
12:45 -13:10 Doors open and Marketplace
13:10 - 13:40 Plenary Opening Festival
Ringmaster of the Festival, Marco de Niet from Leiden University, will welcome us all to this interactive Festival!
13:45- 14:30 Community led sessions Round 1
An introduction to Open Science
Five recommendations for FAIR software
Open science in education: explore the opportunities to enrich your courses
How to publish your book in open access – testing the OA Books Toolkit
FAIR and OPEN data from finish to start
Towards an open post-publication review platform
14:35 15:20 Community Led Sessions Round 2
Success factors of Citizen Science
The importance of data pre-processing
Your Gateway to Open Science Training
Get engaged: you're the audience!
PIDs 101
Pre-registration of data science studies
15:20- 15:30 Comfort break
15:30-16:45 Plenary Session
In this interactive plenary session -hopefully with live guests- we will share experiences, hear about the latest developments in Open Science and have a conversation about future steps.
16:45 - 17:30 Mingle and Meet
Social networking session and virtual drinks
The full descriptions of the Community Led Sessions and pre-Festival workshops are to be found in our programme on www.opensciencefestival.nl