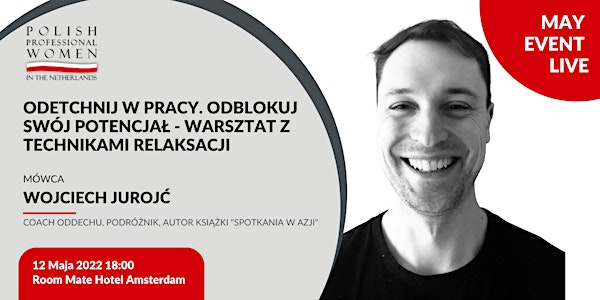 Odetchnij w pracy. Odblokuj swój potencjał - warsztat z technikami relaksac
W czasach, gdzie natłok informacji i zadań przytłacza i prowadzi do nadmiernego stresu, sztuką jest odpowiednia filtracja i relaksacja.
When and where
Location
Room Mate Aitana 6 IJdok 1013 MM Amsterdam Netherlands
Refund Policy
Contact the organizer to request a refund.
Eventbrite's fee is nonrefundable.
About this event
Podczas warsztatu Wojciech Jurojć opowie, dlaczego, szczególnie teraz jest tak ciężko osiągnąć stan relaksu. W ciągu spotkania skupimy się na wyzwaniach towarzyszących nam w pracy oraz prostych technikach na profilaktykę i działania zaradcze wobec tych wyzwań. Są to niewątpliwie:
- presja czasu
- duża ilość zadań i dystraktorów na co dzień
- stres
- przemęczenie
Co za tym idzie wpływa to ogromnie na naszą efektywność i produktywność. Jeżeli zadbamy o nasz oddech i ćwiczenia związane z dobrostanem mentalnym, będziemy mogli łatwo regulować nasz system immunologiczny oraz odporność na stres. W obecnych czasach gdzie w pracy i biznesie następuje dosyć mocny zanik work life balance, a pojawi się work life integration, chcąc nie chcąc jesteśmy zmuszeni do tego, aby zacząć dbać o swoje zdrowie mentalne.
Spotkanie będzie składało się z następujących części:
Strach, lęk, stres – czym są i jak sobie z nimi radzić
Jak diagnozować / rozpoznać, że jesteśmy w stresie (symptomy w ciele i behawioralne)
Proces wielopoziomowej eliminacji stresu
Oddech i jego wpływ na naszą efektywność w pracy i życiu
Jak zminimalizować stres – ćwiczenia oddechowe na dodanie energii oraz wyciszenie
medytacja lub wizualizacja
technik relaksacji
Zaprezentowane techniki, każdy będzie mógł zastosować samemu w pracy lub w domu, aby móc regulować swój poziom energii, stresu i produktywności.
Rezultat: każdy uczestnik po spotkaniu będzie wiedział:
- jak za pomocą oddechu reagować na stres
- jakich ćwiczeń używać aby radzić sobie z presją i poprawić produktywność w pracy
- dlaczego oddech jest tak ważny i może zminimalizować stres
- jak oddychać prawidłowo i regulować swój poziom emocji za pomocą oddechu
- jak zarządzać energią swojego ciała
Podczas warsztatów będziemy wykonywać ćwiczenia oddechowe na macie, także proponujemy założyć wygodny strój (nie trzeba przyjść w legginsach, ale żeby ubranie nie było zbyt ograniczające ruch).
Wojciech Jurojć. Coach oddechu, podróżnik, autor książki "Spotkania w Azji", specjalista od oddechu i zdrowia mentalnego. Odwiedził ponad 60 krajów świata. Przepracował ponad 7 lat w branży IT za granicą. Pełnił funkcję Territory Sales manager w Oracle. Mieszkał 5 lat w Azji. Sadził drzewa w tajskiej dżungli, budował chatki na Sri Lance oraz uczył dzieci ekologii w Indiach. Obecnie prowadzi webinary i warsztaty wellbeing dla firm, gdzie łączy świat biznesu ze światem zdrowia mentalnego. Również prowadzi sesje oddechowe i pisze w wolnej chwili na blogu FB/IG:
IG: conscious.traveler.