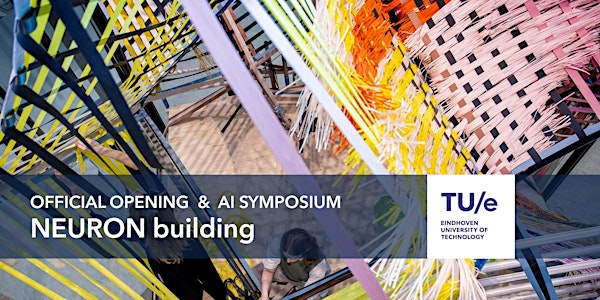 Official Opening Neuron building
On March 28th the official opening of Neuron is taking place from 15.00h, preceded by an EAISI AI symposium (separate registration).
By Eindhoven University of Technology
Date and time
Tuesday, March 28 · 3 - 5:30pm CEST
Location
De Zaale 32 32 De Zaale 5612 AP Eindhoven Netherlands
About this event
You are cordially invited to attend the grand opening of the Neuron building in presence of Constantijn van Oranje. Both the symposium and the official opening will take place at the Atrium on the first floor of the Neuron building (separate registrations).
Official opening
15.00 Welcome by Robert-Jan Smits, president of the TU/e Executive Board
15.05 Introducing Neuron by Do Janne Vermeulen, architect Team V
15.10 Video artwork Neuron by Hella Jongerius
15.15 AI keynote by Lieven Scheire, comedian, physicist and science communicator
15.40 Opening talk by Constantijn van Oranje, Ines Lopez Arteaga, Carlo van de Weijer and Nicole Ummelen
15.55 Opening ceremony in presence of Constantijn van Oranje
16.00 Drinks and start of party program
23.00 End of party program
The official opening is preceded by an EAISI AI symposium in honor of the official opening of its new home at Neuron. The building is a large education and study facility at the TU/e campus but also houses EAISI.
EAISI AI Symposium
Synapses and Silicon: Exploring the Intersection of AI and Neuroscience
--- The symposium starts at 12.30 at the Atrium in Neuron ---
11.30 Lunch for participants AI symposium in EAISI lounge | first floor Neuron | 1.116
12:30 Opening by Carlo van de Weijer, General Manager of EAISI
12.40 Regina Luttge (Associate Professor Microsystems) and Bert de Vries (Full Professor Signal Processing Systems, TU/e) | BayesBrain: The World's First Brain-on-Chip AI Computer
13.05 Véronne Reinders (CTO Aristotle Technologies) | Train your brain with Aristotle Technologies
13.30 Bouke van Balen, PhD candidate Philosophy & Ethics of Brain-Computer Interfaces, TU/e, UMC U, TU Delft Ethical issues of using A.I. in Brain-Computer Interfaces
13.55 Yoeri van de Burgt (Associate Professor Microsystems) and Imke Krauhausen (PhD candidate at Neuromorphic Engineering group, TU/e) | Plastic electronics for artificial synapses and neurons
14.20 - 14.30 Closing