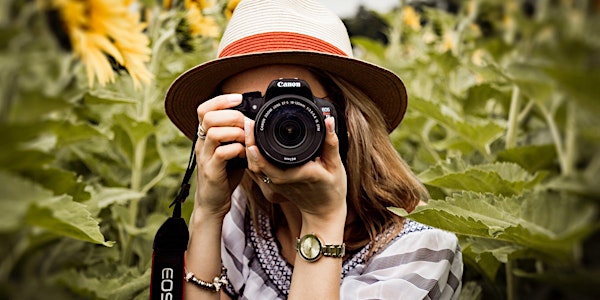 One-Day Basic Photography Workshop in Wageningen.
One-Day Basic Photography Workshop in Wageningen is for everybody looking for an introduction to the fascinating world of photography.
When and where
Location
StartHub, Plus Ultra 2 building 10 Bronland 6708 WH Wageningen Netherlands
Refund Policy
Contact the organizer to request a refund.
Eventbrite's fee is nonrefundable.
About this event
This One-Day Basic Photography Workshop in Wageningen is for everybody looking for an introduction to the fascinating world of photography. It is designed for photographers of all levels, from beginners to those with some understanding of digital photography. You will learn basic photography concepts, such as exposure calculation, ISO, white balance, depth of field, composition, basic post-production and you will have the opportunity to practice your newly acquired skills during the morning class and the practical photo session outdoor in the afternoon. There will be options to shoot urbanscapes, portraits, street photography and objects.
The workshop will also help you to change the way you see. Photography is not only about technical sophistication and complicated equipment, but it is mostly about developing your creativity to see objects, nature and people with a different perspective.
The workshop will end in the studio with a preview of images taken throughout the day and you will have a chance to get professional feedback. The critique session will include technical and aesthetic aspects and you will be free to ask questions about your photography related doubts.
By the end of this workshop, you will be able to have a better understanding of the manual functions on your camera, expose creatively, use shutter speed for freezing and motion blur, use aperture and depth of field to get sharper images or isolate details, justify how ISO affects image quality and how to choose the right one, adjust white balance effectively, use the right type of lens, decide what is important in your image, understand rules of composition and how to break them.
Program:
09.30-11:15: first part theory class with practical,
11.15-11.30: coffee break (Coffee, tea and cookies are complimentary),
11.30-13.00: second part theory class with practical,
13.00-13.30: lunch break,
13.30-15.30: outdoor/indoor shooting,
15.30-17.30: viewing of the images taken during the shooting with individual feedback.
What do you need to get?
Your Digital Reflex camera and kit lens or a prosumer mirrorless / compact camera with manual functions
A fully charged camera battery and a memory card with sufficient space for a day's shooting
Your camera manual, if available
Notebook with a pen.
Waterproof jacket / umbrella in case of rain.
Places are limited to 8 to guarantee individual tuition and help (minimum 5). The workshop will be held in English.
Testimonials
"Great course. Marco made a lot of information digestible. Walked in with no knowledge, walked out with a better understanding of photography. Very enjoyable, low stress, low-pressure atmosphere. And honest and thoughtful feedback at the end was very helpful! Loved this class. Thank you."
-Jose' & Victoria - Workshop 12th February 2017, Utrecht.
"This was a great class. I have learnt so much in a single day and some of what seemed to have been impossible concepts are now understood. I had loads of fun as well. Thanks."
-Stein - Workshop 14th January 2017, Bonn.
"I liked our little group and then the open discussion, very clever to mix theory and practice. Thanks!"
-Virginie - Workshop 20th November 2016, Utrecht.
"It was a great experience and a good way to start practising with my new tools. Thank you, Marco!"
-Ilaria - Workshop 13th November 2016, Rotterdam.
"It was an awesome photography workshop as I learnt how to use manual mode. Marco was very friendly and gave personal attention to everyone which really helped a lot. Thanks a lot. I will come back soon for the next session."
-Divya - Workshop 28th August 2016, Dusseldorf.
"As a complete beginner to the world of photography, today has been a great, relaxed yet informative introduction to how to get the most out of my camera. Marco explained the basics, showing us example throughout, then we got to practise our new skills out and about. It definitely inspired me to practise more! Thanks Marco"
-Hannah - Workshop 12th June 2016, Dusseldorf.
"The course was interesting and informative and covered a range of topics from the beginner level through to more advanced one. It was a worthwhile workshop which helped me to think about the photos I take in a more critical way. I would recommend this course to all levels of photographers who are looking at ways to improve. Thanks, Marco!"
-Kevin - Workshop 12th June 2016, Dusseldorf.
Terms & Conditions
By attending the Workshop you are accepting certain risks. Your agreement of this form shall serve as a release of Marco Mega's liability and a complete assumption of all risks by you. In consideration of, and as part of the payment for your participation in a Marco Mega's workshop, you are voluntarily releasing Marco Mega, his employees, assigns, independent contractors, or anyone involved thereof, from any damages, liabilities, costs, injuries whether mental or physical, known or unknown, and by participation you agree to assume all risks whether known or unknown.
Cancellation or Change of a Workshop
While Marco Mega will make every attempt to operate a Workshop once confirmed, we do reserve the right to cancel or change a Workshop, at any time due to insufficient bookings and/or reasons beyond our control. In such case, a full and immediate refund of the deposit payment will be issued. The financial liability of Marco Mega shall be limited to the amount paid to Marco Mega for the Workshop only. He reserves the right to refuse acceptance of any participant, for any reason, at any time. We are not responsible for any additional expenses incurred by such participants.
Cancellation and Refund Policy
Fee is not refundable in case of cancellation by the participant.
Use of Name and Likeness
Marco Mega reserves the right to take photographs or videos during the Workshop or part thereof and to use the resulting images/video in whole or in part for promotional purposes, including, but not limited to self-promotion for Marco Mega both in print and electronic media. By booking a reservation with Marco Mega, participants agree to allow their images to be used in such photography; participants who prefer that their image.
You accept terms and conditions by booking your seat.