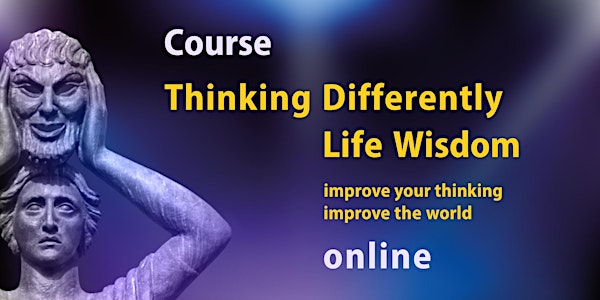 Online course Thinking Differently (14 meetings)
With the course Thinking Differently you can make a positive contribution to the world. Starting with yourself, with your own thinking.
Refund Policy
Contact the organiser to request a refund.
Eventbrite's fee is nonrefundable.
About this event
This online course Thinking Differently 2022-2023 consists of 14 online meetings (Zoom) on Saturdays from October 2022 - April/May 2023.
The exact dates of the courses will be set in mutual agreement. Please contact us first to check the possibilities.
The meetings start at 19:30 CE(S)T. Check the time zone converter for your local time.
Thinking Differently
Although one person thinks more consciously than the other, people are thinkers. Our way of thinking determines our way of life. The way of life of humanity as a whole determines the state of the world.
Do we want to see change? Then the conclusion is: by changing our own way of thinking, we change the world. The solution lies in ourselves. An encouraging thought!
Each of us has the ability to understand more of the background of life. We can further develop our thinking independently and self-consciously by investigating our way of thinking and changing it wherever necessary. In this way we grow and we become wiser.
Are you willing to start with yourself and make a positive contribution? Take on the challenge! Improve your thinking, improve the world.
Online
We make use of Zoom. After purchasing your ticket, you will receive further instruction on how to join us online.
Nederlands
Je kunt deze cursus Anders Denken ook online volgen in het Nederlands. Interesse? Bekijk je opties hier op Evenbrite.
Course lessons
Lesson 1 The nature of human thought What is the focus of human thought? Is our way of thinking sound? What contradictions are evident in our way of thinking?
Lesson 2 Reality and illusion Are sensory perceptions always infallible? What lies behind the world of phenomena? Absolute and objective idealism. Is it possible to learn how to recognise reality?
Lesson 3/4 Human consciousness The composite nature of human consciousness. An investigation into the various aspects that make up the human consciousness. Pointers for an investigation into the orientation of your own thought processes.
Lesson 5 Man know thyself Guidelines for an investigation into your own character. The notions 'good' and 'evil'. What is consciousness? Selfishness and selflessness.
Lesson 6 Controlling thoughts The properties that play a role in all of nature's processes. Being master of your thought process. Guidelines for analysing thinking processes.
Lesson 7 Thoughts What are thoughts? Spirit and matter in their interconnectedness. Is it possible to create new thoughts?
Lesson 8 Thought processes What is 'subconscious' thought? How do thought processes work? How can you change the way you think?
Lesson 9 Directing thoughts Transferring thoughts and 'perceiving' thoughts. Is it possible to help others through thinking? How can you use the power of thought safely?
Lesson 10 Changing thought patterns 'Your life is what your thoughts make it'. Is it possible to change one's character? The power of the imagination. Creating ideas.
Lesson 11 Unveiled thinking – the Socratic method Knowledge or Wisdom? Judging 'facts' and opinions. Developing the power of discernment. What is right? The essence of things.
Lesson 12 Where humans are wanting Is the majority always right? Why do philosophy and religion reach different conclusions? Is a synthesis possible? Requirements a life philosophy must meet.
Contribution
Our organization consists of volunteers who work for the spiritual and mental well-being of humanity, non-profit. Which is why the contribution of the course is based on material costs only.
The contribution for the online course Thinking Differently 2022-2023 is €50. Is this contribution an impediment? Contact us via info@blavatskyhouse.org or 070 346 15 45.
By purchasing your ticket you agree to all of the following conditions of participation:
1. The course starts in October and lasts until April / May of the following year. Allocation for participation will take place in order of received payments.
2. The foundation reserves the right to determine course places and / or to postpone or cancel courses. In such cases, a refund can be made.
3. The course fee must be received before the start of the course.
4. In the event of early termination of the course by the student, there is no entitlement to: 1. reimbursement of course fees, 2. the remaining course material.
Blavatskyhouse
De Ruijterstraat 74
2518 AV The Hague - The Netherlands
(+31) 070-3461545
info@blavatskyhouse.org
#theosophy, #filosophy