Online FAR Masterclass by Prof. dr. A. Gold and Ass. Prof. A. Trotman
On Friday 19 November 2021 FAR will organize an online Masterclass on 'Improving the Quality of Global Group Audits'
About this event
Online FAR Masterclass on 19 November 2021, 3.30-5.00 pm CET by Prof. dr. Anna Gold (Vrije Universiteit Amsterdam) and Ass.Prof. dr. Andrew Trotman (Northeastern University - D'Amore-McKim School of Business) on 'Improving the Quality of Global Group Audits: Do Group Auditor Involvement and Component Auditor Involvement Matter?'
What is this Masterclass about?
Audit deficiencies associated with group audits account for a significant portion of all audit deficiencies identified worldwide. Anna Gold and Andrew Trotman surveyed component auditors in the Netherlands to identify the primary engagement characteristics and coordination strategies as well as communication behaviors of both the lead auditor and component auditor that ultimately determine audit quality at group audits. In this masterclass they will present their main findings from quantitative and qualitative analyses and discuss those with the participants.
Who should attend?
The FAR Masterclass is of interest to audit practitioners and firm management, auditing standard setters, audit supervisors, auditing students, auditing teachers and audit scientists. The Masterclass is open to everyone working in the field of accountancy.
Register today!
Please note that registration is required to participate. Registration closes on 18 November 2021 (11pm CET).
Please note that this Masterclass will be in English.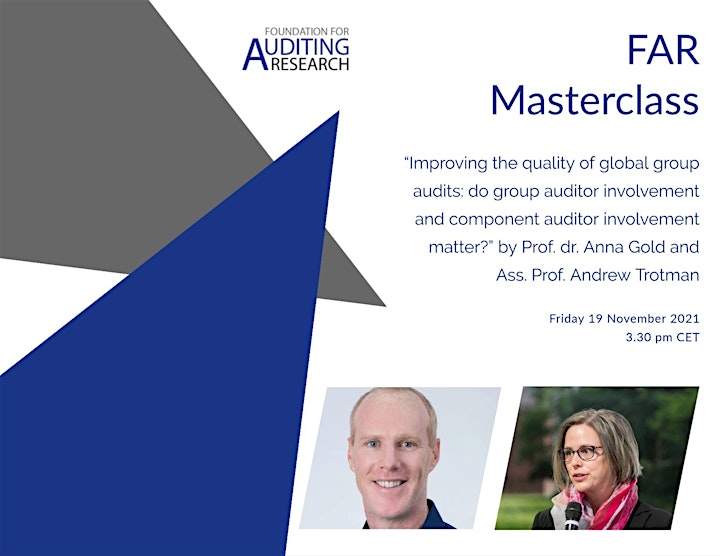 Organizer of Online FAR Masterclass by Prof. dr. A. Gold and Ass. Prof. A. Trotman