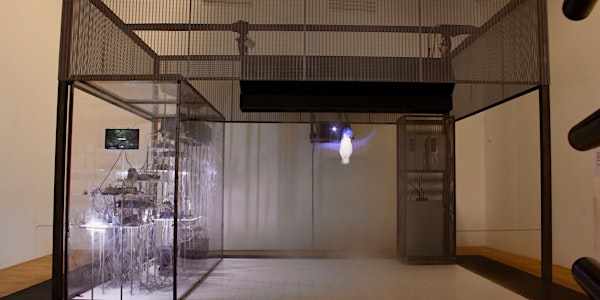 Online lecture by RACHEL ARMSTRONG: Confronting the Unbelievable, on design...
Description
The Faculty of Architecture invites you to join the GOING PUBLIC lecture #13, part of the Mediating Tactics engagement, curated by Thierry Berlemont:

RACHEL ARMSTRONG
Confronting the Unbelievable, on designing in Unreal Times
Wednesday 13/05/2020, 5.30pm GMT+2
On ZOOM
Everyone is welcome to join! Please use this link to access the lecture: https://zoom.us/j/93244213343

In ordinary times, innovation is the territory of the pure and applied sciences, but when operational society no longer exists, design-led thinking can maintain our agility in responding to situations with no formal solutions to establish new kinds of liveability. This talk will explore issues arising from the COVID-19 pandemic and how design-led research can help us re-articulate pressing and broader questions about ethics, values, economies, (bio)politics and our longer-term relationship with nature.
Rachel Armstrong is Professor of Experimental Architecture at the School of Architecture, Planning and Landscape, Newcastle University, United Kingdom. Her career is characterised by design thinking as a fusion element for interdisciplinary expertise. She creates multi-disciplinary research teams to address strategic and even "wicked" real world problems through conceptually pioneering design prototypes that advance innovation at the point of implementation. Exploring the transition from an industrial era of architectural design to an ecological one, she pioneers an ecological, technological and humanistic practice called "living architecture" that considers the implications for designing and engineering in a world thrown off balance.
The GOING PUBLIC program of the Faculty of Architecture is a series of lectures, exhibitions and publications organized throughout the year highlighting certain themes and topics that are important within each of the 4+1 Engagements: Urban Cultures, Mediating Tactics, Craftsmanship, Legacy and the Brussels Way.

Image: 999 years, 13 sqm (the future belongs to ghosts) by Cecile B. Evans and Rachel Armstrong, photograph courtesy of Rolf Hughes, 2019
Organiser of Online lecture by RACHEL ARMSTRONG: Confronting the Unbelievable, on designing in Unreal Times