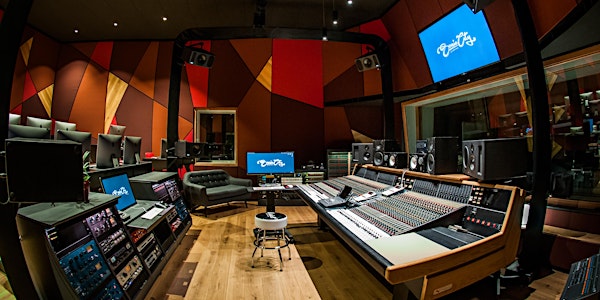 Open Day - Abbey Road Institute Amsterdam
Learn more about our Advanced Diploma in Music Production and Sound Engineering (full-time and part-time) at Abbey Road Institute Amsterdam.
When and where
Location
Abbey Road Institute 1 Atlantisplein 1093 NE Amsterdam Netherlands
About this event
Advanced Diploma in Music Production & Sound Engineering Open Evening
Join our virtual Music Production & Sound Engineering Open Evening and meet the team on Wednesday, the 23rd of November, 2022.
During this online (and offline option) event, you'll learn more about our unique, hands-on Advanced Diploma in Music Production & Sound Engineering and what it is like to study with us.
What to expect:
You will meet our Director and Academic Coordinator and our Communications Manager. Our team will introduce you to our one-year full-time and two years part-time diploma programmes and give you insights into the student experience and opportunities available after graduation. You will also be introduced to the entry requirements and application procedures. We'll finish with a Q&A where you'll have time to ask any questions you might have about studying with us, making a successful application and more.
A short outline of our Open Day presentation:
Welcome by our campus management
Introduction to Abbey Road Institute
Introduction to our curriculum
Introduction to the industry
The admissions process explained
Q&A
Tour through the facilities.
Joining the Open Day online or in person
If you are in and around the Netherlands, you can join the Open Day in person at the Institute. We have a maximum of 30 seats available for this event. You can also attend the Open Day online through a live stream.
If you join through the live stream, we will contact you on the morning of the event with a joining link for the session. Please ensure that you check your email inbox for this link, as you will not be able to access the event without it. Make sure to reserve a ticket through the link above to claim a spot and receive the link to the live stream.
Please book your place now, and we look forward to meeting you (in person or virtually) at the Open Evening!
Abbey Road Institute offers full-time and part-time Advanced Diploma in Music Production and Sound Engineering courses.
If you are interested in signing up for our Advanced Diploma programme, we highly recommend attending our upcoming open day! And if you want to stay up-to-date about our upcoming Open Day, please reserve your spot through the button on this page.
About Abbey Road Institute Amsterdam
Abbey Road Institute is the training ground for the next generation of music producers and sound engineers. By harnessing the expertise and innovation created at Abbey Road Studios and collaborating with experts in the industry, we teach a professional Advanced Diploma in Music Production & Sound Engineering. We work closely with engineers and producers to create a broad, hands-on, cutting-edge curriculum. This prepares our students to launch a career in the music industry as unique as they are. What unites our students and team is a love of music and a passion for creating.
Our students learn from creative, cutting-edge producers, technical experts, business professionals and established and experienced names across the music industry. Choosing to study at Abbey Road Institute is a life-changing decision and a once-in-a-lifetime experience. Our graduates are the future of the music and recording industry.
Part-time programme: 2 years, evening classes, starting April 2023
Full-time programme: 1 year, daytime classes, starting October 2023
We look forward to welcoming you to our open day!