Action Track 1: Ensure Access to Safe and Nutritious Food For All
About this event
TOPICS:
1. Access vs. Ownership (separate vs. shared)
2. Food Security/Food Waste
3. Inclusion and Equity
4. Agtech/CEA Solutions
5. Sustainable, Smart Ag.
FACILITATOR: Marc Buckley: https://marcbuckley.earth/
SPECIAL GUESTS:
Chris Castro: Director of Sustainability & Resilience at City of Orlando, Eco-entrepreneur, Nonprofit executive, Climate activist (Florida) Co-Founder IDEAS for Us and https://fleetfarming.org/
Tim Prewitt, CEO of The Hunger Project https://thp.org/ (NYC)
Toby Jones: https://aseed.net/ (Netherlands)
Chris Jones: Founder, Feeding Cities https://www.feedingcities.info/ (Zurich)
Samantha Suppiah: Founder, Urban Doughnut Asia www.urbandoughnut.asia/fsj.html  (Singapore)
Henry Gordon-Smith: Founder, CEO of Agritecture https://www.agritecture.com/ (NYC)
Sara Dent: Executive Director, Young Agrarians https://youngagrarians.org/ (Canada)
Marco Tidona: Founder, Aponix Vertical Barrel aponix.eu (Germany)
Stephen Ritz: Founder, Green Bronx Machine https://greenbronxmachine.org/ (NYC)
Christine Gould: Founder, Thought for Food https://thoughtforfood.org/ (Basel, Switzerland)
Florijn de Graaf: Founder, Smarthoods http://smarthoods.nl/ (Netherlands)
Mit Koevoets: Strawberry grower, Vaerens, FruitMasters Food Safety & Sustainability https://www.vaerens.com/ https://fruitmasters.com/ (Netherlands)
Penny McBride: Chief Operating Officer, Second Chances Farm https://secondchancesfarm.com/ (Wyoming)
Steven Jeanty: Head Grower, AeroFarms https://www.aerofarms.com/ (New Jersey)
Mark Naveh: Member, Center for Creative Ecology, https://kibbutzlotan.com/en (Israel)
Louison Lancon: Co-Founder, Let's Food, (France)
Olanike Adeyemo: Vice Chancellor University of Ibadan (Nigeria) https://www.ui.edu.ng/
Ndidi Okonkwo: Social Entrepreneur (Nigeria)
David Rosenstein: Executive Director, OurFoods, EvoFarm (California)
Rob Trice: Founding Partner, The Mixing Bowl, Better Food Ventures (California)
Robert Pekin, CEO, Food Connect Foundation https://foodconnect.com.au/ (Australia)
VIRTUAL MEETING LINK:
Join Zoom Meeting
https://us02web.zoom.us/j/83311874662?pwd=bkFVNjZOQ1Z0NllSeVdoem1SNUhudz09
 Meeting ID: 833 1187 4662
Passcode: 970057
In 2021, UN Secretary-General António Guterres will convene a Food Systems Summit as part of the Decade of Action to achieve the Sustainable Development Goals (SDGs) by 2030. The Summit will launch bold new actions to deliver progress on all 17 SDGs, each of which relies to some degree on healthier, more sustainable and equitable food systems.
The Summit will awaken the world to the fact that we all must work together to transform the way the world produces, consumes and thinks about food. It is a summit for everyone everywhere – a people's summit. It is also a solutions summit that will require everyone to take action to transform the world's food systems.
Guided by five Action Tracks, the Summit will bring together key players from the worlds of science, business, policy, healthcare and academia, as well as farmers, indigenous people, youth organizations, consumer groups, environmental activists, and other key stakeholders. Before, during and after the Summit, these actors will come together to bring about tangible, positive changes to the world's food systems.
We will focus on Action Track 1: Ensuring Access to Safe and Nutritious Food For All
This goal requires that all people at all times have access to sufficient quantities of affordable and safe food products. Achieving the goal means increasing the availability of nutritious food, making food more affordable and reducing inequities in access to food.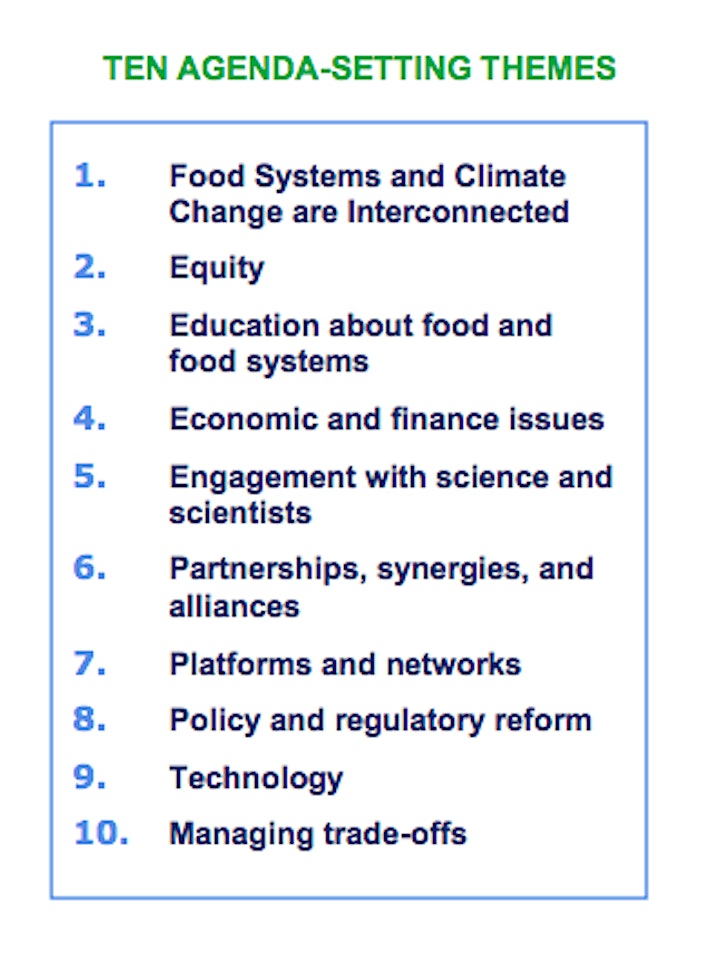 Organizer of OPEN-SOURCE AGRICULTURE: SHARED ACCESS TO GROW FOOD SECURE COMMUNITIES