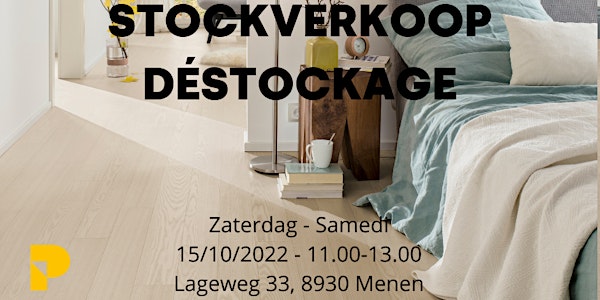 Parky Stockverkoop | Déstockage
Fabrieksverkoop van echte houten vloeren aan de prijs van laminaat! Déstockage de sols en bois véritable au prix du stratifié !
When and where
Location
Lageweg 33 33 Lageweg 8930 Menen Belgium
About this event
Deze houten vloeren zijn geschikt voor residentieel gebruik, perfect voor jonge gezinnen in hun nieuwe woning of bouwproject.
Praktisch
Je kiest ter plaatse je vloer, betaalt en neemt deze meteen mee naar huis
Je kan het bedrijventerrein oprijden tot de banners
Door de COVID19-maatregelen vragen we je een mondmasker te dragen, bij aankomst je handen te ontsmetten en handschoenen te dragen. Respecteer ook de social distance-regels zodat iedereen op een aangename en veilige manier zijn nieuwe houten vloer kan aankopen.
Het vernieuwde Parky-gamma van 2022 zal niet te koop zijn op de stocksale
Ces sols en bois sont adaptés à une utilisation résidentielle et parfaits pour les familles ayant une nouvelle habitation ou un projet de construction.
Info pratique
Vente sur rendez-vous sans engagement via le module de réservation ci-dessous.
Vous choisissez votre sol sur place, payez-le et ramenez-le chez vous immédiatement
Vous pouvez garder votre voiture jusqu'aux bannières
En raison des mesures COVID19, nous vous demandons de porter un masque buccal, de vous désinfecter les mains à l'arrivée et de porter des gants. Respectez également les règles de distance sociale pour que chacun puisse acheter son nouveau parquet en toute sécurité et confort.
La gamme Parky renouvelée à partir de 2022 ne sera pas en vente